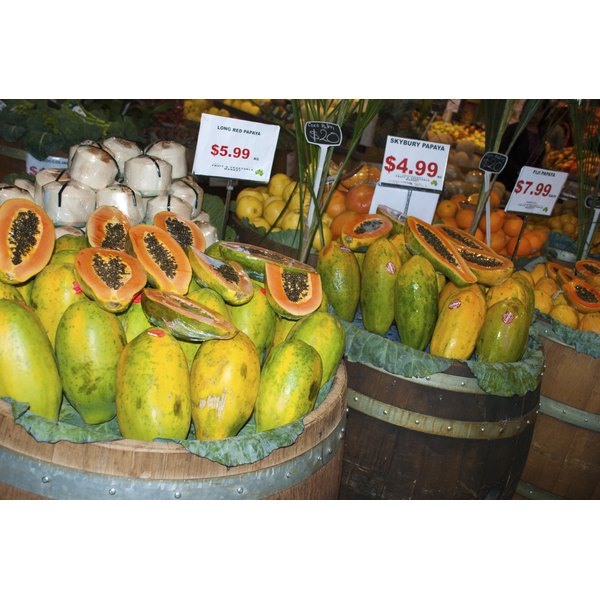 Thrombocytopenia is the name for a reduced platelet count in the blood which happens when the platelets are lost faster than the bone marrow can replace them. This in turn decreases the ability of the body to clot and can lead to excessive bleeding. The condition can be inherited or caused by viruses like HIV, chemotherapy, metabolic disorders or other diseases. Standard treatments include transfusions and medications, but diet can also help to improve platelet production.
Fresh and Organic
Since there's a correlation between pesticides and herbicides and an increase in autoimmune diseases which can lower platelets, patients with thrombocytopenia or even borderline cases should avoid processed foods. Instead, look for products as close to the source as possible which are grown organically.
Whole Grains
Another way to strengthen the immune system is to choose whole grain cereals, brown rice and whole wheat over their "white" forms. Gluten intolerance may also contribute to immune disorders, so eliminating gluten products containing wheat, barley and rye may help with platelet counts.
Green Vegetables
Vitamin K is an important factor in clotting. The Platelet Disorder Support Association recommends increasing the intake of foods rich in vitamin K, including all leafy greens, especially spinach, kale, and collard greens, and sea vegetables like seaweed.
Papaya
A study from 2009 at the Aimst University in Malaysia found that participants receiving papaya leaf extract showed significantly higher mean counts of thrombocytes, another name for platelets. Although the process by which this occurs is still unknown, it is promising enough for patients with platelet disorders to consider adding papaya to their diets.
Sesame Oil
Sesame oil has properties that raise platelet levels, according to cancer nutrition expert Dr. Kim Dalzell of the Midwestern Regional Medical Center. Two tablespoons of a high-quality natural sesame oil like Rapunzel taken orally twice a day, and even rubbing some externally on lymph node areas, may help increase platelet counts over a period of several weeks.
Shark Oil
Research in Sweden at the Odense University Hospital and the Karolinska Institute found that standardized shark oil capsules increased platelet production. The patients received five capsules daily, with the researchers warning that using such supplements for more than 30 days should be avoided to prevent an overproduction of platelets.
Water
Thrombocytopenia patients should drink plenty of filtered or bottled water, preferably at room temperature which assists the digestive process. The Abramson Cancer Center at the University of Pennsylvania recommends eight to ten 8-oz. glasses of non-alcoholic fluid a day to keep the mouth moist, help avoid constipation and encourage a healthy intestinal lining.