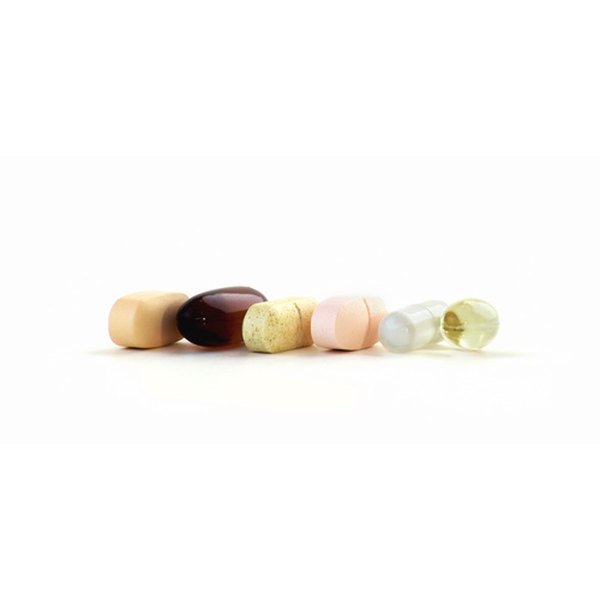 During pregnancy, proper nourishment is crucial in supporting the growth of the baby and health of the mother. The American Dietetic Association states that optimizing the mother's health decreases the risk of birth defects or chronic health problems in the infant. While every pregnant woman should eat nourishing food, diet alone may not provide all of the nutrients needed during pregnancy, so many doctors and midwives recommend a prenatal vitamin. The American Pregnancy Association recommends increased intakes of iron, calcium and folic acid during pregnancy. Here is information on some well-known brands of prenatal vitamins.
Rainbow Lite Prenatal Petite
Rainbow Lite Prenatal Petite Vitamin is a gentle formula packaged in a small pill for easier swallowing. The manufacturers of this multivitamin have put much research into the ingredients of this all natural supplement. It is easy on the stomach as it contains non-constipating iron and probiotics to aid in gut health. It is dairy-free, gluten-free and screened for animal products so that it can be taken by vegans. The dosage is three mini-pills per day. Rainbow Lite Prenatal Vitamins cost approximately $15 for a one-month supply in 2010 and are available at stores such as Whole Foods, The Vitamin Shoppe and Babies R Us.
Prenatal MultiPro
Prenatal MultiPro is a prenatal vitamin created by Dr. Mayer Eisenstein of Homefirst Health Services. This brand is an all-natural, yeast- and dairy-free supplement that has added benefits. In addition to the probiotics for gut health, it also contains amino acids and an herb blend that supports a healthy pregnancy. Prenatal MultiPro also contains 4,000 IU of vitamin D3. The dosage is two capsules twice per day. At $28 for a one-month supply in 2010, Prenatal MultiPro is available through Homefirst's website at http://homefirst.com.
Dr. Greene Prenatal Vitamin by Twinlab
Dr. Alan Greene is a pediatrician who has a website--drgreene.com--devoted to answering questions many parents have. Together with Twinlab Formulas, Dr. Greene has developed a prenatal vitamin. It contains the 22 vitamins and minerals needed for a healthy pregnancy. The iron used is chelated for maximum absorption and is non-constipating. This supplement is guaranteed to be free of preservatives and artificial flavors and colors. The dosage is two capsules daily. This prenatal vitamin is approximately $25 for a one-month supply in 2010 and is available at Twinlab's website at http://www.twinlab.com and at many retail stores.
NatureMade Prenatal + DHA
NatureMade supplements come with a guarantee of high-standard manufacturing for both potency and purity. NatureMade's Prenatal vitamin contains 22 essential vitamins and minerals with the added benefit of DHA, an omega-3 fatty acid. Current research suggests that omega-3 fatty acids aid in the brain and eye development of the fetus. The prenatal vitamin is in a "softgel" form for easier swallowing. This supplement is free of preservatives, artificial color and flavors. The dosage is one pill daily. At approximately $10 for a month's supply, NatureMade Prenatal + DHA is available at most drug and retail stores.
Woman's One A Day Prenatal Vitamin
Woman's One A Day is a prenatal vitamin that also contains DHA, an important omega-3 fatty acid. It also contains all of the recommended amounts of vitamins and minerals, with the exception of calcium. Calcium needs increase to 1,000 to 1,300 mg during pregnancy. The manufacturers of Woman's One A Day claim that sufficient calcium can not be absorbed in the two-pill daily dosage and therefore recommend an additional calcium supplement. At approximately $15 for a month's supply in 2010, this supplement can be found at most drugstores and retail stores.