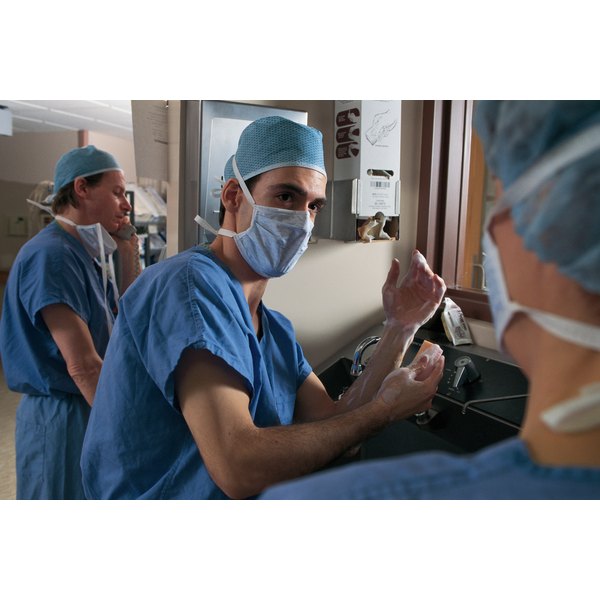 Hibiclens chlorhexidine gluconate is a skin cleanser brand which has anti-infective properties. It is commonly used prior to surgeries by operating room staff as a hand antiseptic, and on patients to prepare the skin before surgery. It is also used for routine hand hygiene by health-care personnel to prevent transmission of hospital or nursing home infections. Chlorhexidine gluconate continues to act for about five to six hours, making it a good choice for general skin cleansing of superficial wounds. It is also used to disinfect around urinary catheter and blood collection sites, and on burns to prevent bacterial infection.
Common Adverse Effects
Hibiclens chlorhexidine gluconate can cause skin irritation and allergic reactions, so people with a known sensitivity to the drug should avoid its use. It is for external use only, and should not be placed in the eyes, ears or mouth. It should only be used on wounds involving superficial layers of the skin. Allergic reactions are more common with higher concentrations and if used on mucous membranes (membranes of the genitals, mouth or anus). Corneal damage can occur if chlorhexidine enters the eyes. Promptly rinse the eyes with water should this happen.
Hypersensitivity Reactions
Life-threatening allergic reactions can occur with exposure to Hibiclens chlorhexidine gluconate. This includes a drop in blood pressure, rapid heart rate, shortness of breath, swelling of the airway, redness (hives) or swelling of the skin. Local reactions are more common, but can be severe and require medical evaluation.
Precautions
Keep Hibiclens chlorhexidine gluconate out of reach of children to prevent possible ingestion. The solution may permanently stain fabrics and clothing; using appropriate care will help prevent this. Chlorhexidine use is safe during pregnancy, and it is unlikely to be present in lactated milk. However, if it is used on the breasts for skin cleansing, it should be thoroughly washed off prior to nursing.