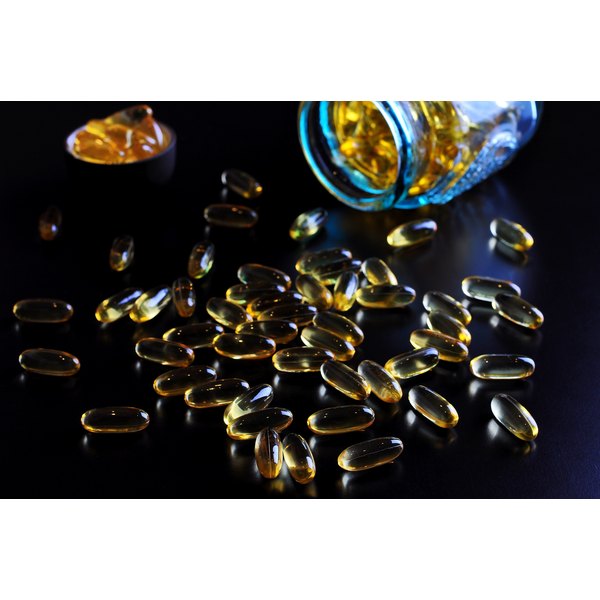 Because fish oil pills have a wide range of health benefits, they have the potential to help treat and prevent various health conditions. Rich in omega-3 fatty acids, fish oil pills are known to support the immune system and heart health, and for their efficacy in treating inflammatory diseases and reducing pain associated with inflammation.
Promotes Heart Health
Derived from fatty fish, which includes tuna, mackerel, halibut, salmon and cod, fish oil pills are often used to promote heart health, and fish oil is effective for lowering high triglycerides, according to Medline Plus. Triglycerides are the main fat in the blood, and high levels of triglycerides can increase your risk of getting heart disease. In addition, fish oil is rated as "likely effective" for keeping healthy people free of heart disease. A 2009 article published in the "Journal of Cardiovascular Pharmacology" noted that fish oil, whether consumed from fish or dietary supplements, has beneficial effects on cardiovascular disease and mortality.
Boosts Immune Function
The two key omega-3 fatty acids within fish oil are eicosapentaenoic acid and docosahexaenoic acid. These omega-3 fats, which are found in very few plant sources, can help prevent inflammatory diseases by boosting immune function, according to a 2009 paper published in "Nutrition in Critical Practice." The paper also noted that omega-3 polyunsaturated fatty acids could be beneficial in treating severely ill patients because fatty acids are quickly incorporated by cells. Fish oil supplementation is also more effective at reducing hospital stay duration when compared to omega-6 fatty acids such as soybean oil, according to the authors.
Reduces Inflammation
The anti-inflammatory properties of fish oil can make it an effective alternative to nonsteroidal anti-inflammatory drugs. Although such drugs are effective in reducing inflammation, they can also present complications such as gastric ulcers and bleeding. Fish oil is believed to be a safer pain-reducer in that it presents fewer side effects. A study published in 2006 in "Surgical Neurology" found that the omega-3 fatty acids in fish oil could reduce arthritic pain and appeared to be a safer alternative to conventional anti-inflammatory drugs for the treatment of back and neck pain.
Additional Uses
While a number of scientifically backed uses for fish oil exists, there are many more potential uses that have yet to be defined by science, notes MedlinePlus. Fish oil is often referred to as a "brain food" that might potentially help with depression, attention-deficit hyperactivity disorder, Alzheimer's disease and other mental disorders, reports MedlinePlus. MedlinePlus has rated fish oil "possibly effective" for a number of other conditions, which include menstrual pain, the prevention of atherosclerosis and stroke, weight loss, kidney problems, macular degeneration, high cholesterol, psoriasis and asthma.