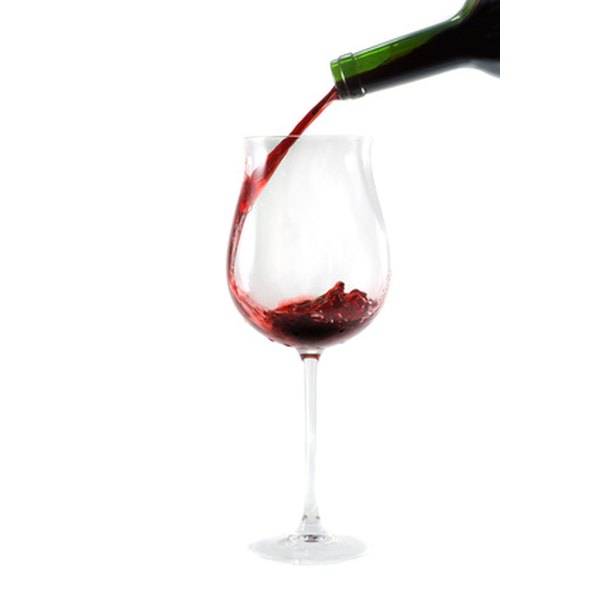 Alcohol has some proven health benefits, but if you don't currently drink beer, wine or liquor, it's not a good idea to start, says the American Heart Association. The benefits you can get from alcohol can also be gained by a healthy diet and exercise. The important thing to understand is that you should not drink to improve your health or reduce the risk for illness or disease. If you already enjoy a libation, one a day for women and two a day for men is sufficient.
Red Wine
Red wine seems to be packed with healthy compounds. The Mayo Clinic reports that "red wine, in moderation, has long been thought of as heart healthy." Red wine contains high levels of flavanoids--more, in fact, than oranges, apples and tea. Flavanoids are known to protect the lining of blood vessels in the heart. Nonflavanoids, also found in red wine, prevent fatty deposits from blocking arteries. Resveratrol is a substance that keeps blood vessels healthy, reduces bad cholesterol and helps prevent blood clots. There's also some indication that resveratrol may reduce the inflammation and blood clotting that's linked to heart disease.
Beer
Beer is rich in B-vitamins and folates, both of which are found in leafy green vegetables. The Nurses' Health Study found that women who drank beer had decreased levels of hypertension compared with women who drank wine or liquor. And of men who drank beer compared to those who drank wine and spirits, a Kaiser Permanente survey in 1997 showed that beer drinkers had a lower risk of developing coronary artery disease. In 2004, the Tufts School of Nutrition showed that light and dark beers could protect bone density thanks to the high levels of calcium and minerals in those drinks.
Alcohol in General
The American Heart Association cites a long-term study that looked at more than 28,000 women who drank liquor, red wine, white wine and beer. At the end of the study, researchers found a positive relation between the women who drank light to moderate amounts of alcohol and a decreased risk of hypertension. The Nurses' Health Study also showed that moderate alcohol consumption is associated with improved cognitive function and has a protective effect on cardiovascular health.