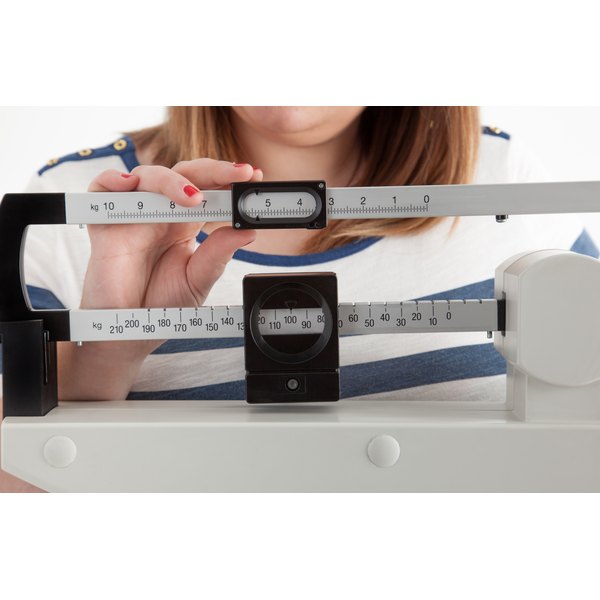 BMI (body mass index) is an easy, inexpensive method of predicting the percentage of your body weight that is due to fat mass. BMI is found by dividing your weight (in lbs.) by your height squared (in inches) and then multiplying by 703. In adults, a BMI below 18.5 is considered underweight, 18.6 to 24.9 is considered healthy, 25.0 to 29.9 is considered overweight and above 30.0 is considered obese.
Respiratory function has been studied extensively in relation to BMI. For those with lung diseases, including emphysema, chronic bronchitis, asthma, and interstitial and vascular lung diseases, respiratory function is moderately to severely compromised. This compromise can be exacerbated by being overweight or having a BMI over 25.0. However, even in those with normal airway function, high BMI can impair respiratory function.
Obesity and Chronic Obstructive Pulmonary Diseases (COPD)
Chronic Obstructive Pulmonary Diseases include emphysema, chronic bronchitis and asthma. COPD causes a decrease in elastic recoil of the lungs so that excess air becomes trapped in the chest. This stretches the muscles involved in respiration and compromises their function. The respiratory muscles must then work harder even at rest, increasing oxygen demand on an already taxed respiratory system.
At a certain point during physical activity, COPD patients reach a level when increased effort does not further increase the amount of air that they can expire. Having a high BMI means having more weight for your muscles to support during mobility. Thus, if you have COPD, the level at which increased effort no longer provides an increase in expiration comes much faster since you are working harder to support your own weight. In addition, having a high BMI means having more weight on the chest for the respiratory muscles to work against.
Underweight and COPD
Although a high BMI can further impair respiration in those with COPD, once COPD progresses to a severe level, weight loss becomes problematic. Because of lower oxygen levels in the blood, blood becomes shunted from the abdomen into the heart and lungs. This causes malnutrition because the gut is not getting enough blood flow to properly digest foods. Additionally, severe impairment of the lungs causes the respiratory muscles to work so much harder that metabolism greatly increases, even at rest. Typically, severe COPD patients who are underweight have a worse prognosis than those who are overweight because they are essentially starving.
High BMI in Healthy Individuals
According to a 2005 study by Jones et. al., high BMI can severely impact respiratory function even in non-diseased individuals. The study found that both Functional Residual Capacity--the volume of air in your lungs after passive exhalation--and Expiratory Reserve Volume--the volume of air you can expire after passively exhaling—decreased exponentially as BMI increased. Subjects who were morbidly obese were actually breathing close to their Residual Volumes--the amount of air in your lungs after forced exhalation. Another 2005 study by Medarov et. al. Supports Jones' findings and also found that Total Lung Capacity—the maximum amount of air you can inhale--decreased with increasing BMI.
According to the American College of Sports Medicine, being overweight has mechanical effects on respiration, due to increased weight on the chest wall and diaphragm. Being overweight also causes an increase in energy use at the same workload compared to a leaner person, so the respiratory muscles fatigue at lower intensities in heavier people. These effects may contribute to the decreases in Functional Residual Capacity, Expiratory Reserve Volume and Total Lung Capacity.
Lung Diseases Caused by Obesity
There are two types of lung disease for which obesity is a primary cause. The first is Obesity Hypoventilation Syndrome, also known as Pickwickian Syndrome. Obesity Hypoventilation Syndrome involves chronic hypoxemia—too little oxygen in the blood—and hypercapnia—too much carbon dioxide in the blood. The second lung disease obesity can cause is Obstructive Sleep Apnea. This disease involves periodic airway collapse and increased airway resistance during sleep. As both of these diseases progress, pulmonary hypertension may occur and eventually cause cor pulmonale--failure of the right side of the heart.
Domino Effect
Because high BMI decreases lung function in both diseased and healthy individuals, an unfortunate domino effect often occurs. Since being overweight makes it harder to breathe, those with respiratory problems may become less physically active. Decreased physical activity causes your muscles, including your respiratory muscles, to weaken and break down, which in turn makes breathing even more difficult. A downward spiral begins, in which inactivity begets further respiratory problems and respiratory problems beget more inactivity.