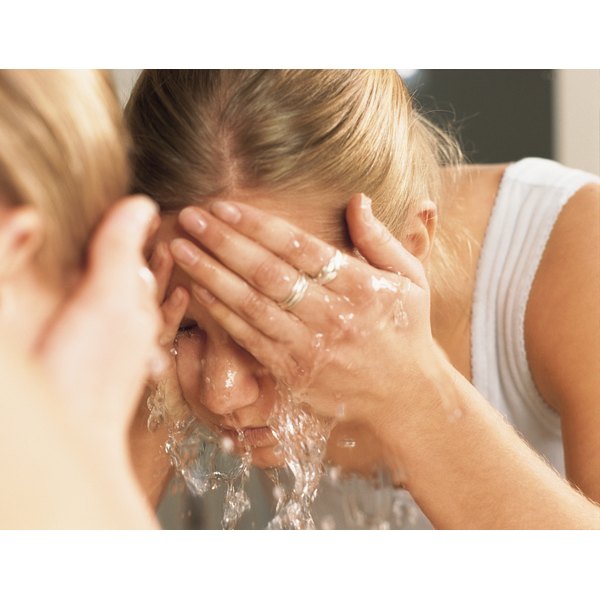 One of the most important aspects of a skin care regimen is cleansing. Without a clean surface on which to apply moisturizers and cosmetics, dirt and oil get trapped and can clog pores, leading to blackheads, acne and other facial skin disorders, report dermatologists at Dermatologist RX. Facial cleansers typically are free of soap and can help to exfoliate dead skin cells and improve skin texture. It's important to use a face wash that is appropriate for your skin type.
Revision
Revision skin care products are recommended by dermatologists and have been providing the industry with face washes and other skin products since 1995. Revision Alpha Cleanser is made with papaya and contains salicyclic acid to stimulate the skin and promote new cell growth. It is a gentle cleanser that is recommended for all skin types and is especially beneficial for those with combination skin. It also has skin softening properties to leave skin supple and smooth.
Dermatologic Cosmetic Laboratories
Dermatologic Cosmetic Laboratories (DCL) provides dermatologists and other physicians with nonprescription skincare products that doctors can dispense directly to patients. Researchers at DCL work directly with dermatologists to develop their line of products. The company was one of the first to utilize alpha hydroxy in its products in 1988. For dry, sensitive skin, the DCL Non-Drying Cleansing Lotion is recommended. AHA Revitalizing Cleanser is made with a four percent glycolic acid formula that removes dirt and oil from pores, recommended for those with oily skin types. The DCL Balancing Cleanser provides thorough cleaning as well as moisturizing properties.
Gly Derm
Glycolic acid and alpha hydroxy acid derived from sugar cane is the base for most of the skin products manufactured by Gly Derm The company has developed a process by which they can deliver the maximum amount of the skin repair chemicals without the attending burning and redness typically associated with the ingredients. Gly Derm's Gentle Cleanser contains two percent glycolic acid and comes in a concentrated form to make it more economical. Gly Derm cleanser is recommended for use on all skin types and is particularly effective for sensitive skin.
MD Forte
MD Forte carries a line of skin care products for every skin type. It utilizes glycolic acid in its products to slough off dead skin cells and to increase moisture in the skin. MD Forte's Facial Cleanser III is made with 20 percent glycolic acid and is ideal for removing makeup and other dirt on the skin. It is recommended for people with dry, normal and combination skin types. The company carries a glycolic-free cleanser called Replenish Hydrating Cleanser that is made from proprietary ingredients and is especially useful for sensitive skin types.