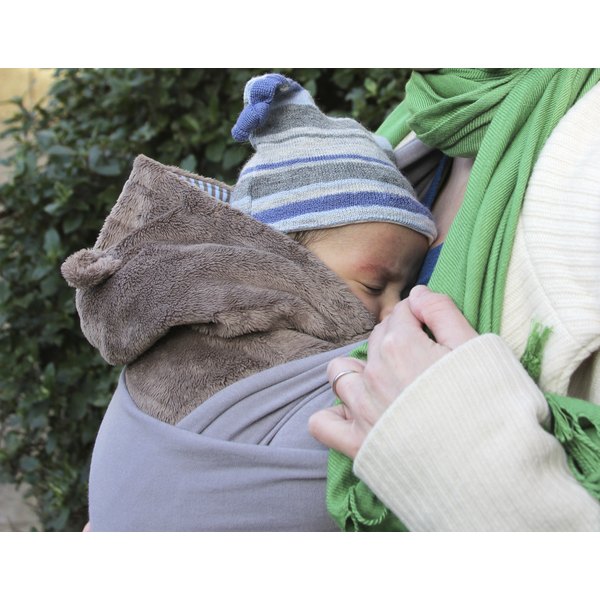 When your baby needs to be fed every two hours, it can be a struggle to feed yourself regularly as well. But as a new mom, you need food to fuel your breastfeeding efforts. In general, a nursing mother needs about 500 extra calories a day, for a total of 2,000 to 2,500 calories. However, use your hunger as a guide rather than focusing on the numbers.
Snacks for Meals
It's more important to eat enough food to keep up your supply of breast milk than it is to focus on eating perfectly, says BabyCenter. That doesn't mean that you should pig out on junk food, as you need to meet your own nutritional needs. It does mean that you might feel extra-hungry more often and should eat frequently to satiate that hunger. Instead of making full meals, eat a number of small snacks throughout the day. Ideas for healthful snacks include fresh fruit that doesn't need to be peeled, such as grapes, apples or berries; butter and low-sugar jelly on whole-wheat bread; Greek yogurt; popcorn; and high-fiber cereal.
Add Fat to Your Meals
A nursing mother needs plenty of healthful mono- and polyunsaturated fats in her diet. At breakfast, incorporate healthy fats by adding smoked salmon to your whole-wheat bagel or including olives and avocados in your morning omelet. At lunch or dinner, sprinkle nuts and olives on a side salad, eat a serving of fatty fish or cook in heart-healthy olive oil. Stay away from unhealthy saturated and trans fats.
Eat Plenty of Protein
You need around 71 grams of protein a day when nursing, says the Ohio State University Extension. Meet your macronutrient requirements by eating fatty fish during meals for both healthy fats and protein, but extend your protein options to non-seafood items, too. Protein-rich meal ideas at breakfast include scrambled eggs and a side of Greek yogurt ; add berries to the yogurt and veggies to the eggs for extra nutrients. At lunch, top a large salad with grilled chicken breast or lean steak. For dinner, enjoy a meal of easy-to-cook pork chops, protein-rich quinoa boiled in low-sodium chicken broth for flavor and a serving of roasted vegetables.
Don't Forget Calcium
Calcium is a vital nutrient while breastfeeding, so the Ohio State University Extension recommends 3 cups a day of low-fat dairy products. A healthy, calcium-rich breakfast may include your favorite fiber-rich cereal with skim milk and a glass of calcium-fortified orange juice. Or make a quick smoothie with milk or fat-free yogurt and berries. At lunch, add a side of cottage cheese to your sandwich and veggies. A calcium-rich dinner may include a side dish of white beans with sauteed spinach or kale and a serving of salmon or tofu, both calcium-rich proteins.