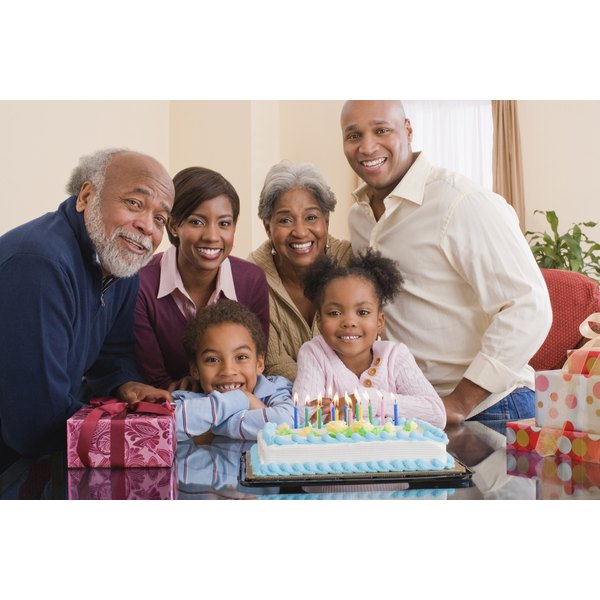 It may be difficult to figure out what a grandfather wants as a birthday gift. As a result, family members may be tempted to repeat the same gift ideas from previous birthdays, such as neckties and gift cards. There are more thoughtful, unique gift ideas that you can present to grandpa that he is sure to appreciate.
Legacy Gifts
One great idea for a birthday gift for grandpa is to give him a legacy book. Legacy books are commonly found at bookstores and some retail centers. These books allow grandpa to record information about his life for the grandchildren to enjoy throughout their lives. Grandpa can record information about his childhood, his parents and his grandparents -- pertinent information about your family history can be recorded for all to reference after grandpa is gone.
Memory Gifts
Grandfathers love memories of fun times with their grandchildren; therefore, a special birthday gift for grandpa may be one that evokes great memories. For example, a picture frame that highlights favorite times with grandpa, or one that simply says "Grandpa and me," can be a thoughtful gift. A memory book, with pictures of grandpa and his grandchildren, is another special gift that can be enjoyed by grandpa and the family for years to come.
Handmade GIfts
Grandpa can really cherish a gift that his grandchildren have made for him. Simply take a T-shirt and have the kids paint handprints all over it with each of their names. Also, building a birdhouse for grandpa's backyard or a special steppingstone for his garden can be a unique option for a gift.
Special Time Together
Spending special time with grandpa can also be a wonderful gift to give. The AARP website reports that grandparents and grandchildren alike enjoy spending time with one another. So try letting the grandchildren give grandpa some movie or museum tickets for a special day out together. You can also give grandpa some tickets to a local zoo or animal habitat to take the grandchildren on a trip. If grandpa lives far away, try sending a plane ticket for him to come visit or use your frequent flier miles to purchase one. This can be an excellent way for them to grow closer and make nice memories.