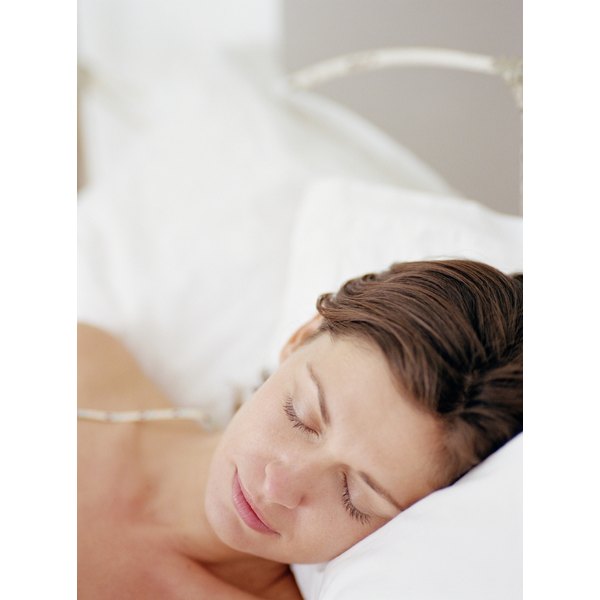 Novamoxin (penicillin) is a medication used to treat a vast amount of bacterial infections. For example, it can treat ear or throat infections and pneumonia, says MedlinePlus. Novamoxin destroys the bacterial cells walls so that its infection doesn't spread to the rest of the body. Novamoxin is available as a tablet, liquid and injection and should be taken as a doctor prescribes.
Common Side Effects
According to Drugs.com, Novamoxin typically causes diarrhea, headaches, vaginal itching and vaginal discharge. Excessive diarrhea can result in dehydration. Drink 7 to 10 glasses of water daily to replace the amount of fluid lost. Novamoxin can also cause a sore tongue or throat, a headache and white patches on the tongue or in the mouth. Fortunately, Novamoxin's common side effects are benign but a doctor should be consulted when these effects remain for three or more days.
Serious Side Effects
According to the National Library of Medicine, Novamoxin may cause pseudomembranous colitis, a severe antibiotic-induced diarrhea. Clostridium difficile is a bacteria that grows on your intestinal walls and causes such serious effects as excessive bouts of foul-smelling diarrhea, stomach pain and nausea. It is important to stop taking Novamoxin consult a doctor as soon as a person presents with these symptoms. The doctor can prescribe metronidazole, an antibiotic that destroys the Clostridium difficile bacteria.
Drugs.com says that Novamox's other serious side effects include fast breathing, joint pain, facial swelling and a skin rash. This medication rarely causes convulsions, decreased urination, abnormal bleeding or bruising and yellowing of your skin or eyes. Convulsions refer to a condition in which your body shakes uncontrollably for less than 30 minutes. Convulsions that last for more than 30 minutes can result in severe brain damage and even death. Decreased urination results in elevated blood urea nitrogen (BUN) levels. BUN is produced in the kidneys to indicate kidney problems. Decreased urination may lead to acute renal failure. Signs of thrombocytopenia (low platelet counts) include easy bleeding or bruising as platelets are responsible for clotting your blood. Jaundice (yellowing of the eyes or skin) is typically a physical manifestation of liver damage. A doctor should be consulted at once when Novamax causes these side effects.
Additional Concerns
People who are allergic to penicillin should not take Novamoxin. An allergic reaction to penicillin causes hives, trouble breathing and tongue or facial swelling. Drugs.com indicates that Novamoxin can pass into breast milk and cause the baby to develop an allergic reaction, diarrhea, a skin rash and bacterial or fungal infection. Novamoxin taken with other medications, such as cyclosporine, methotrexate, venlaxafine and vecunurium, may exacerbate the aforementioned side effects. People with congestive heart failure, kidney disease, cystic fibrosis and bleeding problems should consult a doctor, as these conditions may make Novamoxin less effective.