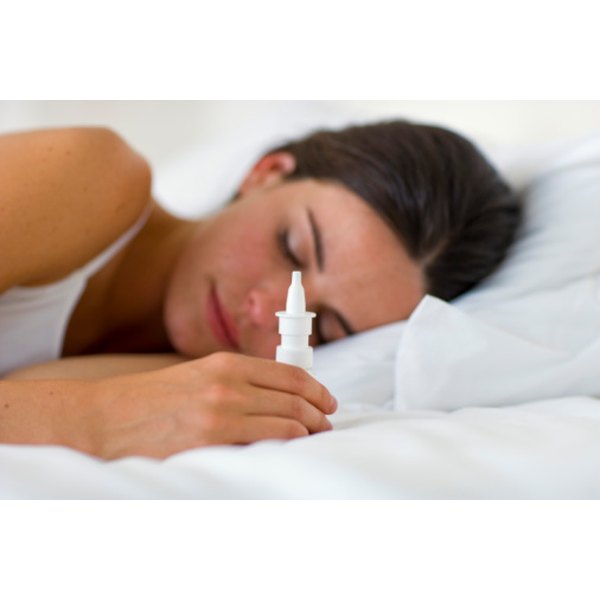 Omnaris (ciclesonide nasal) is a medication used to manage symptoms of hay fever and seasonal allergies. It is a corticosteroid that reduces congestion, itching, sneezing and a runny nose, according to Drugs.com. Omnaris is available as a nasal spray, and you will typically administer two sprays daily.
Common Side Effects
Drugs.com says that Omnaris can cause epistaxis (nosebleeds), headache, stuffy nose, sore throat and otalgia (ear pain). It can also cause nasal irritation and burning, says MedlinePlus. In a controlled clinical study of 546 patients receiving 200mcg of Omnaris, the National Library of Medicine reports that 6.0 percent had a headache, 4.9 percent experienced nosebleeds, 3.7 percent developed nasopharyngitis (sore throat and nasal inflammation) and 2.2 percent had ear pain. These side effects should not be a cause for concern unless they last for three or more days.
Harmful Side Effects
Omnaris can cause a wide variety of harmful side effects. According to MedlinePlus, it can cause the flu, problems seeing, extreme fatigue and muscle weakness. It can cause trouble breathing, wheezing, hives, itching and a rash. Other serious side effects include nose injuries, acne, easy bruising, white patch formation on your throat and nose, and edema (swelling) of your legs, face, eyes, hands, feet and ankles. Omaris can also cause menstrual irregularities, hoarseness, and an enlarged neck or face. Drugs.com says you can suffer from depression, anxiety and strange behavior.
Warnings
Do not use Omnaris if you have a known hypersensitivity to it or its ingredients. You can develop such potentially fatal complications as difficulty breathing, hives and angioedema (facial, tongue and lip swelling). Drugs.com recommends you tell your doctor whether you suffer from tuberculosis, glaucoma (high eye pressure), lung infections or had recent nasal surgery. Omnaris may be less effective in these cases, and can cause the aforementioned side effects. MedlinePlus says you should tell your doctor if you are taking such medications as dexamethasone, methylprednisone or prednisone. Omnaris may interact with these medications and cause the aforementioned effects. It is not clear whether Omnaris passes into breast milk or harms your child during pregnancy. Inform your physician if you breastfeed or become pregnant.