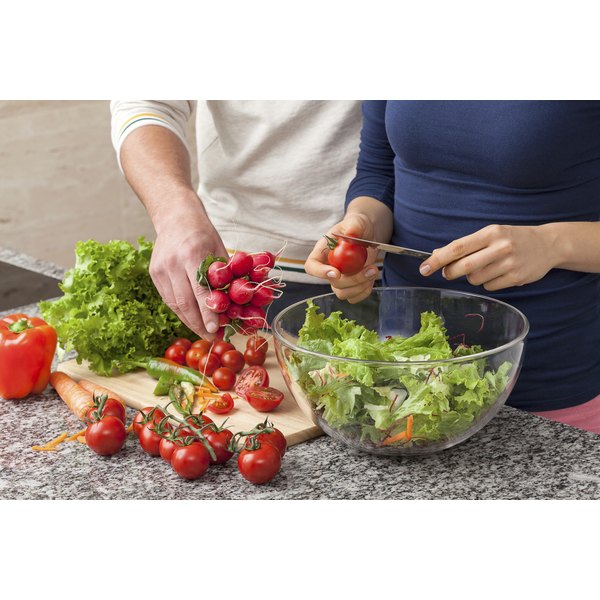 There are a number of low-calorie diets based on a 1,500-calorie-a-day count. Doctors at the National Institutes for Health report that the lowest recommended calorie intake for men is 1,500, and for women it's 1,200. To maintain that level of calorie intake, dieters need to find ways to create low-calorie meals that are no more than 500 calories so that the calories can be spread out over three meals and snacks. There are a number of healthy, easy-to-prepare dinner ideas that are under 500 calories.
Big Salad
Greens and fresh vegetables have negligible calories and can provide a filling base for a low-calorie dinner. Fill a large bowl with a mixed-green lettuce mix and follow a Mexican salad recipe from Kraft that uses 1/4 lb. boneless, skinless cooked chicken breast, 1/4 can of corn and 1/4 can of black beans, drained. Add 1/8 cup of shredded cheddar cheese and 2 tbsp. light ranch dressing. Mix the salad ingredients together for a great Mexican salad that is about 490 calories.
Fast Food
Diet consultants at Good Housekeeping report that there are a number of fast-food restaurants that serve 500-calorie dinners. An Arby's roast beef and cheddar sandwich is about 480 calories, while an original recipe chicken breast and a side of mashed potatoes with gravy at KFC comes in at about 500 calories. Pizza Hut cooks can substitute low-fat cheese on the pizzas and allow dieters to eat three slices for a total of 500 calories. Go to McDonald's and get a hamburger, side salad with low-fat dressing and small 1 percent milk and consume only 435 calories.
Frozen Dinners
There are a wide variety of prepared, prepackaged frozen dinners that provide a complete meal under 500 calories. The most popular frozen meals with reduced calories are Lean Cuisine, Weight Watchers, Healthy Choice and Smart Ones. They fill the grocer's freezer aisles with a wide range of choices. Enjoy everything from seafood linguine to beef stew and chicken Parmesan while sticking to the 500-calorie limit. Many frozen meals are closer to 300 or 350 calories, leaving room to add a piece of low-calorie bread for 40 calories and a glass of skim milk for about 80 calories.