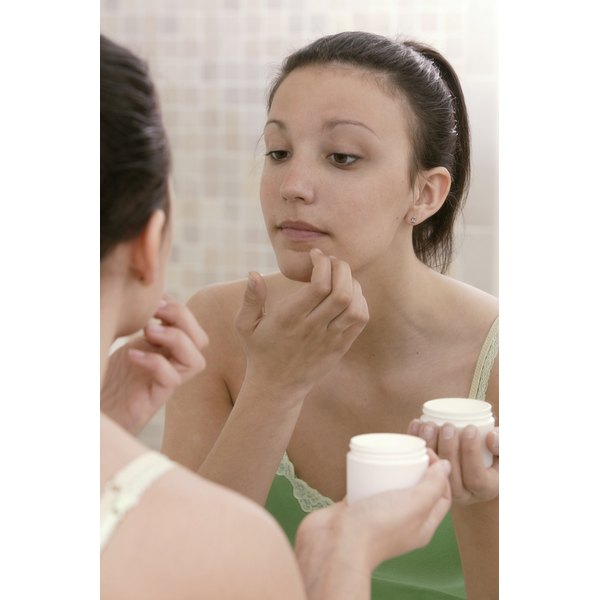 Several brands of commercial facial moisturizers contain Shea butter. A fat created from the nut of the African Shea tree, Shea butter is used for a variety of purposes, including the reduction of fine lines, wrinkles, scars and stretch marks. Jojoba oil is extracted from the seeds of the jojoba tree and provides long-lasting moisture with limited chance of skin irritation. Create your own natural, homemade face cream by combining Shea butter, jojoba oil and various other inexpensive ingredients.
Pour 1/2 cup unrefined Shea butter into a microwave-safe bowl. Microwave on medium for 30 seconds, or just until the butter is melted. Avoid overheating or boiling Shea butter, which creates a grainy consistency and may cause the butter to lose its healing effects.

Place 1 tablespoon beeswax into a separate microwave-safe bowl. Microwave the beeswax on high heat for 30 seconds, or until melted. Add 1 tablespoon aloe vera gel and 2 tablespoons extra virgin olive oil to the beeswax bowl. Pour beeswax mixture and melted Shea butter into a blender or incorporate with a hand mixer. Blend ingredients until creamy.

Pour the mixture into a bowl and work in 10 to 20 drops of jojoba oil. Add an additional 10 drops of your favorite essential or fragrance oil, such as lavender, if desired.

Pour the Shea butter and jojoba facial cream into a clean jar with a tight-fitting lid. Store the moisturizer is a cool, dark place and apply a thin layer in the morning and before bed.

Tip

Shea butter is noncomedogenic and acceptable for use on dry and oily skin types. If your skin is sensitive, test the product on a small patch of your arm or face. If redness or irritation occurs, discontinue using the product.

Avoid storing your homemade moisturizer in a warm spot, such as your medicine cabinet, as Shea butter melts easily.

Unrefined Shea butter is available in health and beauty and craft stores; beeswax is available at craft stores.