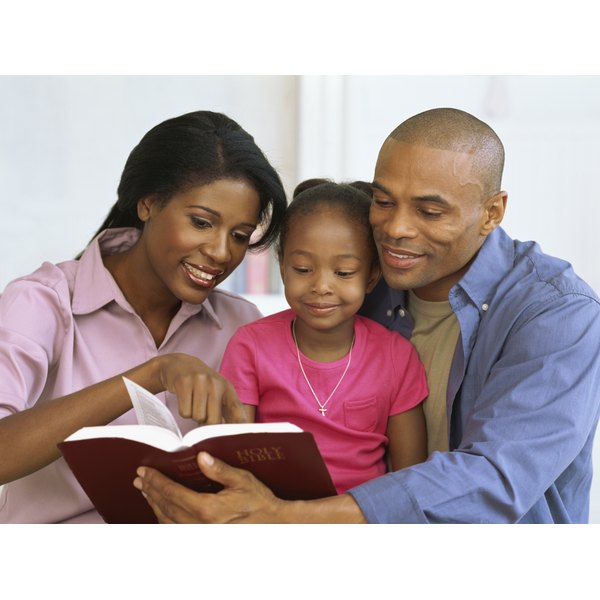 When your children reach the point where they have questions and interest in stories and characters from scripture, activities are often an effective way to teach lessons and make the information seem more relevant. Organize a few entertaining and engaging activities to make learning about God's covenant with Abraham enjoyable.
Read the Scripture
Before you can begin any hands-on activities, pull your child close to you on the couch with the scriptures open in your lap so you can read the verses to your him that tell about God's covenant with Abraham. First, make sure that your child understands the meaning of the word "covenant" – you can liken it to a promise or an agreement. Genesis 17, verses 1 through 8 tells the basics of God's promise to bless Abraham that he would multiply in great numbers. God promises Abraham that He will make him the father of a multitude of nations, meaning that many, many people will be born throughout time as a result of Abraham and Sarah's union.
Stargazing
On a dark and clear night, take your child outside to look at the night sky, suggests the Kids Own Worship Bible lesson. This activity will be most effective if little artificial light shines and the night sky is as dark as possible. You might spread a blanket on the ground and lay on your backs on the ground, gazing up at the stars in the sky. Ask your child if she can count the starts. She might start trying to count, but eventually, she'll realize that there are too many to count. Ask her what she thinks Abraham thought when God told him that his children would be like the stars in the sky. Talk about the fact that Abraham probably thought that was pretty amazing.
Star Poster
Make a star poster to simulate the inky sky. Provide your child with a sheet of black poster board, at least 22 inches by 28 inches. Give your child a sheet of star stickers and have him start sticking the star stickers randomly over the poster board to make it look like the sky. If your child knows any constellations, you might help him create them with the stars, too. Keep applying stickers until your child fills the poster board with as many as he desires. Talk about how each star symbolizes Abraham's descendants.
Star Baking
Because stars can be a shape to remember God's covenant with Abraham, you and your child might find a star cookie-baking activity an enjoyable way to cement the lesson. Whip up some basic sugar cookie dough and roll it out so you can begin cutting out star-shaped cookies. After baking the cookies, help your child decorate them with sprinkles or frosting. As your child enjoys the cookies, talk about God's faithfulness and how He kept His promise to Abraham to give him a big family.