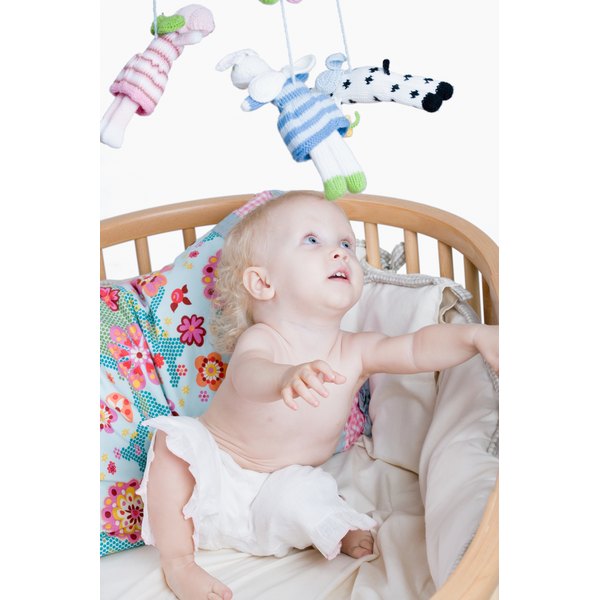 According to Health First and Enfamil, a baby raised in a stimulating environment is more likely to reach his developmental milestones faster. He is also more likely to have improved nervous system development and demonstrate a superior attention span, memory and sense of curiosity. A stimulating environment is one that arouses the senses. You can create a stimulating environment in your baby's nursery by focusing on colors, textures, shapes and sounds.
Paint the walls of your nursery with contrasting colors. This will help your baby learn to focus on high-contrast objects and determine where one shape ends and another begins. Achieve contrasting walls by painting stripes in two colors on the walls, painting each wall a different color, or painting the top half of the walls one color and the bottom half of the walls a contrasting color. Alternatively, apply wallpaper to the walls consisting of a design with contrasting colors. Stay away from black and white. Too strong of a contrast can lead to over-stimulation and a fussy baby.

Introduce a variety of textures into your baby's nursery with window treatments, rugs, bedding and toys secured safely to the inside of the crib and displayed throughout the room. Textured pieces in a variety of shapes and colors will provide visual stimulation in addition to textile stimulation.

Place a CD or MP3 player in your baby's nursery to periodically play music designed to stimulate babies. You can incorporate other elements of auditory stimulation with the use of toys that make noise and a musical mobile.

Set up a comfortable sitting area where you can read to your baby every day. The sound of a mother reading is far more intellectually stimulating than any nursery design. For your convenience, place a basket full of books beside your sitting area for quick and easy access. You may also want to have a lamp within arm's reach to adjust lighting levels, and a foot rest for your comfort.

Tip

Keep your baby's nursery clean and free of clutter to prevent over-stimulation. Although you want his nursery to encourage his intellectual development, it also needs to be a soothing and comforting place where he can sleep and relax.

A properly-stimulated baby will smile, giggle, make cooing and babbling noises, look alert, and interact with people and her environment. An overstimulated baby will act overly fussy and unhappy. If you suspect your baby is being overstimulated by her environment, try eliminating some of the toys and brightly-colored items in her room. Through trial and error, you will discover the ultimate level of stimulation for your baby.