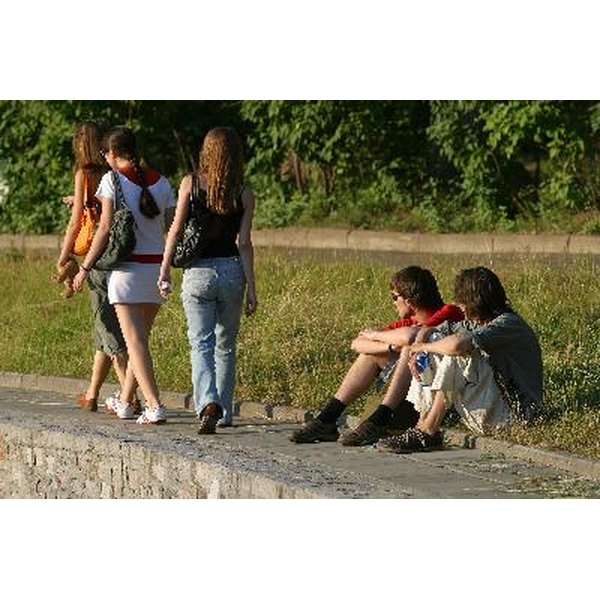 While many new parents feel the constant crying and chronic sleeplessness of having a newborn must be the most difficult stage of parenting, raising a teenager can also be quite difficult. While teens are more independent and can listen to reason, parents of teens know all too well that their children may ignore reason and any rules that go with it, such as curfews.
Crime and Safety
While such findings have been controversial, one theory on teen curfews is that they may reduce crime among teens. This is one reason some towns and cities have enacted teen curfews. Some studies have shown a reduction in crime when teens have a curfew, but crime among teens is on the rise even as more cities adopt curfews, explains "Youth Today," a newspaper for youth-service workers. Both parents and city or town officials also enact curfews to keep kids safe from activities such as drinking and drug abuse by ensuring they are home at a decent time.
Teen Driving
For parents who are concerned about new drivers, a curfew can help keep kids off the road late at night when being tired may increase the risk of accidents. Some cities or states limit what times teens are allowed to drive, so enforcing a curfew at home can make it easier for your teen to follow these laws. This also means parents can rest a bit easier knowing their teens are in bed at midnight instead of driving around unsupervised.
Parental Concern
Enforcing a curfew with your teen shows her you care and are concerned about her well-being, and that is the best way to frame the topic when explaining a curfew to your child, suggests the American Academy of Pediatrics. In addition, curfews give teens an opportunity to prove they can be responsible by following the guidelines you lay down and being home on time.
Tips for Curfews
The Children's Trust suggests starting with an early curfew for your teen. If she does well with that curfew and behaves responsibly, you can consider making the curfew a bit later. Consider having one curfew for school nights and a slightly later one on weekends. Talk to your teen about her curfew and let her have a bit of input, if possible. She will be more willing to follow the rules if she feels like her voice has been heard.