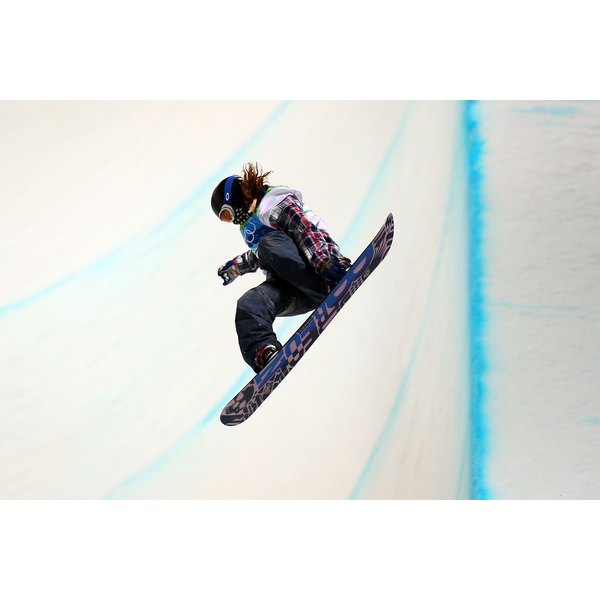 Snowboarding became an Olympic sport in 1998. Competition for spots is fierce because no country's snowboarding team can exceed 24 members, as of the 2014 Winter Games. You must be a citizen of the nation you wish to represent, and each country has some discretion when selecting its team's members. The U.S. team is selected after a series of qualifying events.
Become a member of the United States Ski and Snowboard Association by accessing the USSA website.

Obtain a license from the International Ski Federation by accessing the federation's website.

Finish among the top 30 places in your discipline at an FIS World Cup or World Championship event during the appropriate qualification period before the Olympic Games for which you're trying out. The qualification period begins approximately 18 months before the Winter Olympic Games.

Accumulate 50 or more FIS points during the qualification period if you're a slopestyle competitor, or at least 100 points in the other snowboarding disciplines.

Participate in the U.S. Grand Prix Olympic qualifying series during the year prior to the Olympic Games. Check the USSA website for the specific dates and locations of each event. You'll earn points for your best two finishes during the series. The top performers in each series will earn Olympic team berths.

Tip

As of the 2014 Winter Games, the 24-member U.S. Olympic snowboarding team may include no more than 14 competitors of either gender. No more than four athletes of either gender may compete in the same snowboarding discipline. The four snowboarding disciplines, as of the date of publication, are the halfpipe, slopestyle, snowboard cross and parallel giant slalom.

Warnings

You must have a valid passport that doesn't expire until after six months of the conclusion of the Winter Games.