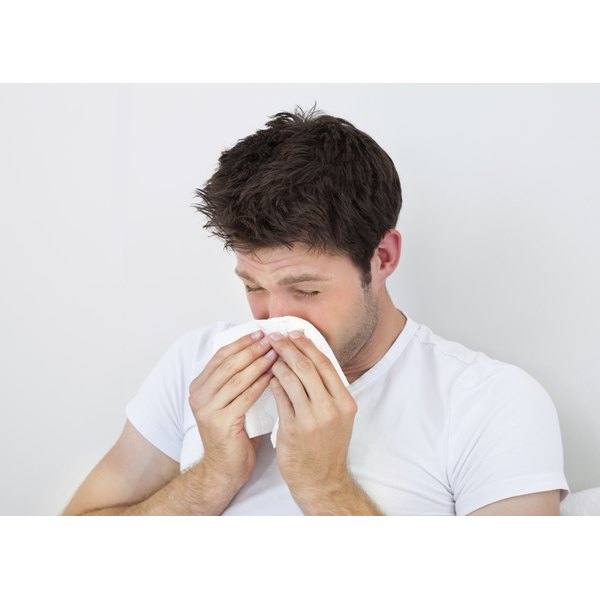 If you have diabetes, it is critical that you maintain healthy blood glucose levels. While some medications can have an effect on glucose levels, antihistamines will not raise or lower them. However, your nutrition will affect your blood glucose levels, so it is important to eat a healthful diet. Also, you should always follow your doctor's advice about what medications are safe for you to take.
Antihistamines
Histamine is a chemical in your body that causes the nasal congestion, runny nose, sneezing and itching that generally accompany an allergic reaction or cold, according to the American Academy of Otolaryngology. An antihistamine is a medicine that prevents histamine from acting in your body, and it relieves allergy symptoms. Antihistamines are widely available over-the-counter, and they can often cause drowsiness as a side effect. However, they also can offer inexpensive relief from mild to moderate allergy symptoms.
Antihistamines and Diabetes
Antihistamines have no effect on your blood glucose level, so diabetics and others who need to carefully monitor their glucose levels should be able to take them. It is possible that with the drowsiness caused by antihistamines, however, you may forget to monitor your blood sugar. However, when taking an antihistamine, you can compensate for this by setting an alarm to remind you when to check your glucose levels. If you have any concerns regarding diabetes medication and antihistamine interactions, check with your pharmacist or doctor before taking anything.
Glucose and Carbs
Your glucose levels are primarily affected by what you eat and drink, particularly carbohydrates. When you eat carbohydrates, your body breaks them down into the simple sugar molecule, glucose. Glucose is absorbed from the small intestine into your bloodstream, where it travels to your cells, which use it for energy. Glucose can also be stored in your liver or muscles for your body to use later, according to the Centers for Disease Control, CDC. Occasionally, your body is unable to balance your glucose levels properly, leading to problems such as diabetes.
Maintaining Glucose Levels
Whether you have diabetes or not, you can maintain balanced healthy blood glucose by following healthy eating habits. When you eat carbs, you want to focus on healthy, complex carbohydrates, like starches and fiber. Sugars, or simple carbs, break down into blood glucose faster, but also leave your system faster. Eat a well-balanced diet, with plenty of fruits, vegetables and lean meats. Avoid sodium, cholesterol, saturated and trans fats; however, you do want some healthy, unsaturated fats, like olive oil, in your diet.