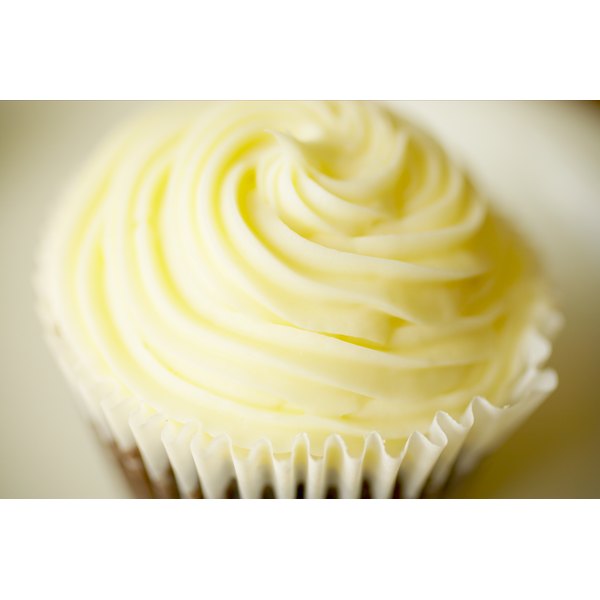 Cupcakes are one of life's little indulgences – petite, perfectly decorated, they are all the more delicious for being a bit frivolous. But if you are trying to reduce fat, sugar and sweets in your diet these treats may seem out of reach. However, there are healthy alternatives you can use when baking cupcakes to ensure you and your family can enjoy them, guilt-free.
Sweeteners
One simple way to cut down on calories and also make cupcakes diabetic-friendly is to substitute sweeteners for some or all of the sugar in the recipe. "One Bowl Allergy-Free Baking" recommends either stevia – which is a natural, plant-based sugar alternative – or xylitol, which is used in sugar-free gums and diet foods – as good alternatives to regular cane sugar.
Whole Wheat Flour
"The Everything Guide to Cooking for Children With Diabetes" suggests replacing part of the white flour in cupcake recipes with whole wheat flour. This boosts the fiber and protein content and because whole wheat flour is a complex carbohydrate it can help prevent spikes in blood sugar. It recommends using one-quarter whole wheat flour, but you can increase that amount if you prefer. Be aware, though, that using all whole wheat flour will make heavy cupcakes.
Fruit Purees
For low-fat cupcakes you can substitute any kind of pureed fruit for the fat in the recipe, notes "Cupcakes from the Cake Mix Doctor." Popular options include very ripe mashed bananas, applesauce, prune puree or even pumpkin purre. Replace whatever quantity of oil is called for with an equal amount of fruit, if desired. If you don't want a fruity taste just use half puree and half oil.
Low-Fat Frosting
Rich frosting is one of the best parts of a cupcake, but you can even make that healthier by replacing full-fat cream cheese with a low-fat variety, as recommended by "101 Gourmet Cupcakes in 10 Minutes." If you are making a buttercream frosting you can substitute reduced fat butter, or if making ganache use light whipping cream or half-and-half. Fruit puree also makes a tasty, nutritious topping.