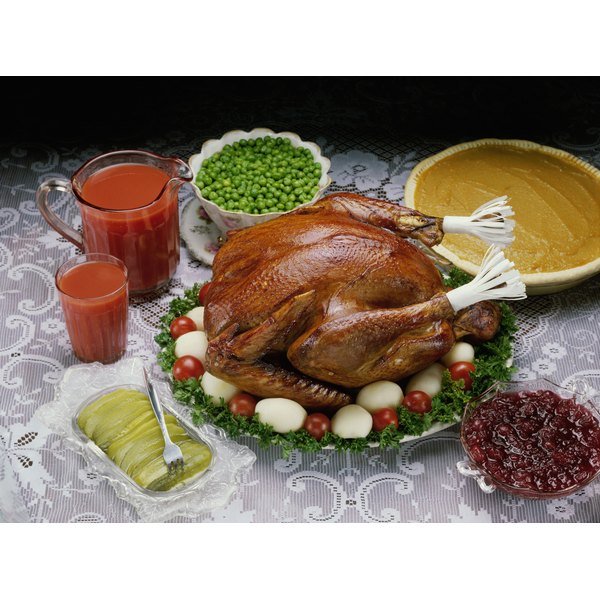 All amino acids -- the compounds that make up proteins -- fall into one of three categories: essential, nonessential or conditional. Essential amino acids are ones that you can obtain only through food. Glutamic acid, also known as glutamate, is considered a nonessential amino acid since your body can make an adequate amount, though a variety of foods contain the compound. Glycine is in the conditional category. People under physical or mental strain may not be able to produce enough glycine and will then need to consume it in their diet.
Choose Turkey Breast
There is no recommended dietary allowance of nonessential amino acids like glutamic acid or glycine for healthy adults, though a varied diet should supply an adequate amount over the course of each day. According to the U.S. Department of Agriculture, roasted, skinless turkey breast meat is one of the richest natural sources of both glutamic acid and glycine. A 3-ounce serving supplies 3.8 grams of glutamic acid and 1.2 grams of glycine.
Snack on Soybeans
Raw soybeans contain approximately 15 grams of glutamic acid and 3.5 grams of glycine per cup. An easy way to incorporate the nutritional benefits of soybeans into your diet is to use roasted soybeans as a healthy snack. Each cup has almost 12 grams of glutamic acid and 2.8 grams of glycine. Choose unsalted roasted soybeans over salted brands. Roasted soybeans with added salt may contain as much as 280 milligrams of sodium in every cup, or 12 percent of the recommended daily sodium limit for healthy adults.
Experiment With Soy Flour
A 1-cup serving of soy flour contains 9.7 grams of glutamic acid and about 2 grams of glycine. Besides being high in all of the essential amino acids, soy flour is a source of dietary fiber, B vitamins, minerals like potassium and iron, and isoflavones, a type of antioxidant phytochemical. Defatted soy flour supplies these nutrients with no cholesterol and only a trace amount of fat. You can substitute up to 30 percent of the wheat flour called for in quick bread, cookie or simple yeast bread recipes with soy flour.
Work in Spirulina
Spirulina is an algae available as dried flakes or a powder. Each cup of dried spirulina has 9.3 grams of glutamic acid and 3.5 grams of glycine, while a typical 1-tablespoon serving contains 0.6 gram of glutamic acid and 0.2 gram of glycine. For an extra dose of protein, add spirulina to smoothies, dips and sauces, or mix it into fruit or vegetable juice. Toss hot, air-popped popcorn with powdered spirulina and low-sodium seasonings like spices and herbs.