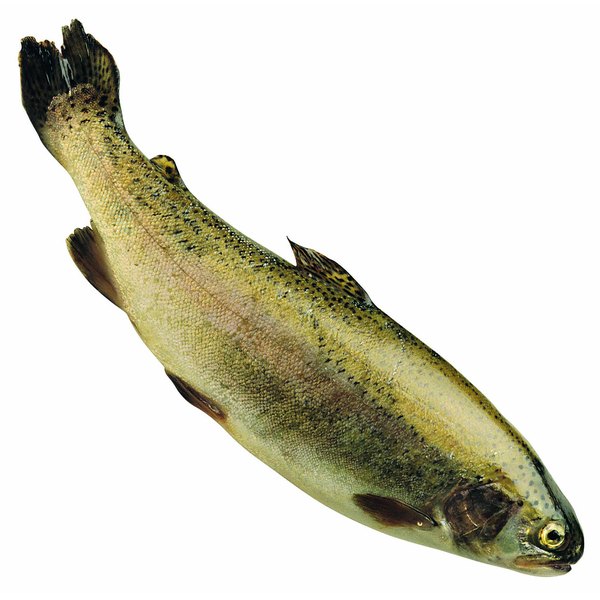 There are a number of different trout species in the United States, such as lake, brook, rainbow and bull. Perhaps to offer a general idea of this freshwater fish's nutritional value -- in view of so many different species -- the U.S. Department of Agriculture has one nutrition facts label that refers to the nutrients in mixed species of trout.
Fish Facts
The largest trout species is the lake trout, a native of the Great Lakes, Alaska and Canada that can weigh as much as 100 pounds. The spotted brook trout grows to 10 inches and lives in an area that ranges from Canada to southern Georgia in the U.S. Brook trout spawns in the fall, with eggs hatching in spring. The rainbow trout is a freshwater fish, but some follow the path of a river into the ocean, where they can survive; however, to spawn, they have to return to the river. The bull trout is a light yellow fish with red markings that swims in western states, from Oregon and Washington to Idaho and Montana. According to the U.S. Fish and Wildlife Service, the species does not adapt to adverse conditions, such as unclear and warm waters or reduced flow. Unable to survive and reproduce, the bull trout disappears in unfavorable environments.
General Vitamin Content
Based on a 2,000-calorie diet, one cooked trout filet weighing about 2 ounces has 1 percent of the recommended daily intake for vitamin A. The nutrient is an antioxidant that neutralizes disease-causing molecules known as free radicals. The serving also provides seven of the B-complex vitamins: It contains 77 percent of the RDI for B12, 18 percent for thiamin and niacin, 15 percent for riboflavin, 14 percent for pantothenic acid, 7 percent for B6, and 2 percent for folate. As a group, the B vitamins facilitate digestion, making it possible for your body to extract energy from foods.
General Mineral Content
Trout has all essential minerals in varying amounts. The cooked fish provides 3 percent of the RDI for calcium, 7 percent for iron and copper, 4 percent for magnesium and zinc, 19 percent for phosphorous, 6 percent for potassium, 2 percent for sodium, 34 percent for manganese and 14 percent for selenium. Minerals play different roles to help your various systems to function. Potassium, for example, is an electrolyte. The nutrient powers your tissues, cells and organs with the electrical signals it transmits.
Additional Nutrition
Trout is rich in amino acids, the precursors of proteins. One 2-ounce fillet contains sufficient amino acids for your body to produce 33 percent of the recommended daily intake for protein. It also provides 8 percent of the RDI for fat and gives you 118 calories, fuel that takes 25 minutes of moderate walking to burn.