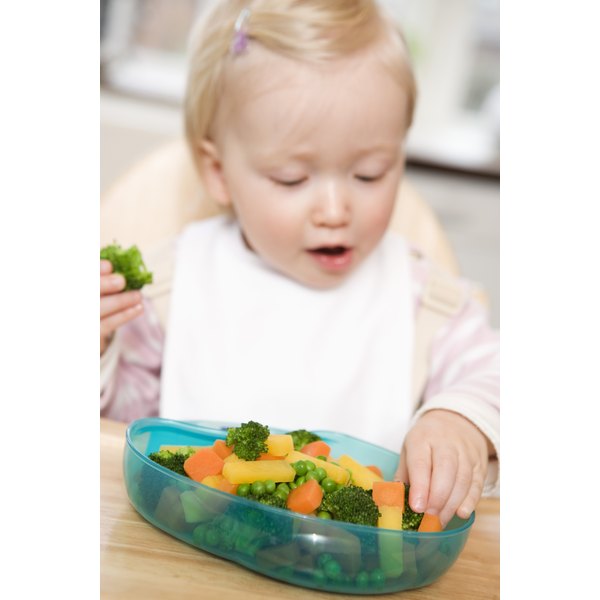 Around 7 to 9 months, a baby starts trying to feed himself by grabbing at food on his plate or trying to take the spoon from his mother's hands. By a year, he likely is well-versed in using the pincer grip with his thumb and forefinger to pick up food and deliver it to his waiting mouth. In fact, some children at this point refuse to let you feed them from a spoon at all. You may, therefore, be looking to increase the range and variety of foods you feed your 12-month-old toddler.
Softened Veggies
Take advantage of your toddler's interest in self-feeding by offering plenty of finger-friendly vegetable options. Try steamed broccoli and cauliflower florets, cubes of cooked potato and sweet potato, avocado slices, steamed carrot slices or cubes, cooked petite green beans, cooked frozen peas, diced cooked zucchini, diced cooked pumpkin or winter squash. Make sure all the vegetables you offer are cooked to tenderness to avoid choking hazards.
Safe Fruit Choices
Most 1-year-olds love the sweet taste of fruit. Slices of banana are an excellent finger food offering. Other fruits to try include diced cantaloupe, sliced strawberries, diced mango and chunks of seedless watermelon. Peel fruits such as peaches and plums before dicing as the peels often are tough for toddlers to chew. Steam cubes of pear or apple before serving to ensure a soft texture. Grapes should be sliced in half to avoid choking.
Fiber-full Finger Foods
Bread and cereal offer fiber and energy to your growing 12-month-old. Opt for whole-grain breads and cereals for maximum nutrition. Serve cubes of lightly toasted bread or bagels, either plain or with a spread such as peanut butter or cream cheese. Or try fortified breakfast cereals in easy-to-pick-up shapes such as Os or Xs. Make sure your chosen cereal has no added sugars. Puffed grain cereals are another possibility. Another finger-food option in this vein is small pasta shapes, such as spiral noodles cut into bite-sized pieces.
Meat, Cheese and Other Protein
The finger-food stage is a good time to introduce your 12-month-old toddler to the taste and texture of soft meats, such as cubed chicken and ham. Chunks of mild-tasting semi-soft cheese such as cheddar, Muenster, Havarti, mozzarella or Monterey Jack are a good source of protein for your growing toddler. Try shredding the cheese for textural variety. Also, offer your 12-month-old toddler curds of scrambled egg or chopped or sliced hard-boiled egg. Or try small cubes of tofu. Another vegetarian protein option is individual cooked beans -- make sure they are cooked soft; cut larger beans in half.