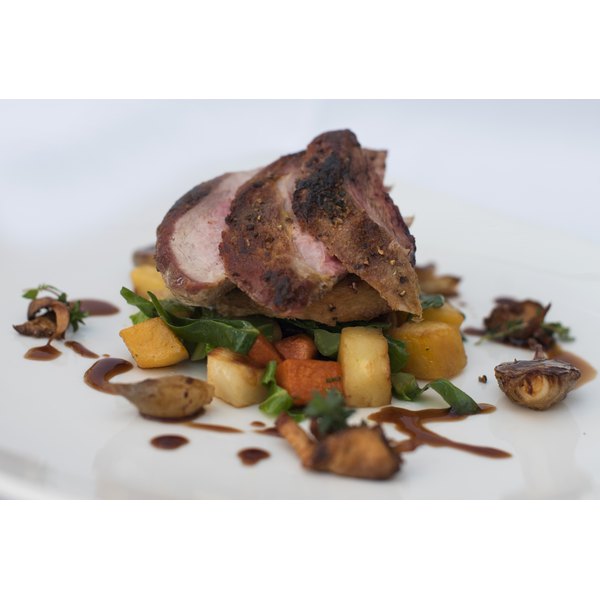 Pheasant is a game bird popular with hunters because of its low flying speed, which makes it a rather easy target. Once the pheasant is brought home and cooked, it will deliver a very healthy amount of protein, as well as significant levels of B vitamins and potassium. Another important mineral found in pheasant is iron, and this game bird provides the best form of iron available. Pheasants are normally roasted like chickens and can be bought frozen.
Tip
Pheasant Meat has 133 Calories and 24.37 g of Protein per 100 gram serving according to the nutrition facts provided by the USDA Food Composition Database.
Calories
A 3.5 oz. serving of raw pheasant meat only, minus the skin, provides 133 calories. If you leave the skin on, the calories bump up to 180 calories. The caloric breakdown of pheasant is split 78 percent to 22 percent between protein and fat, respectively, with no carbohydrates.
Fat Content
According to metro.ca, pheasant contains nearly half the fat found in an equal size beef cut. Skinless raw pheasant meat contains 3.64 grams of fat compared with 9.29 grams when the skin is left on the bird. Pheasant contains essentially equal amounts of saturated and monounsaturated fat and about half the amount of polyunsaturated fat. The 66 mg of cholesterol in the skinless variety and the 71 mg of cholesterol are high enough to warrant consideration for those with cholesterol issues.
Vitamins
That single 3.5 oz. serving of pheasant meat before it's cooked is rich in some of the B vitamins. Skinless pheasant provides 14 percent of the recommended daily value of vitamin B12, 6.759 mg of niacin and 37 percent of the daily value for vitamin B6, at 0.74 mg. Leaving the skin on the bird lowers these figures by traces. According to "Prevention Magazine's Nutrition Advisor," pheasant is one of the best dietary sources available for vitamin B6, providing 15 percent more of the recommended daily value of this vitamin than trout, goose, veal liver and carrot juice.
Minerals
Pheasant is a good source of phosphorus and selenium, as well as niacin. A 3.5 oz. serving from a fully cooked pheasant provides 240 mg of phosphorus, which is 24 percent of your recommended daily value of this mineral, which works with calcium to help with bone strength and also promotes efficient metabolism. Those 3.5 oz. provide 20.0 mcg of selenium, which is nearly 30 percent of the recommended daily intake. Making sure you get the full daily value of selenium will boost your immune system, as well as defend you against cancer due to its antioxidant properties.