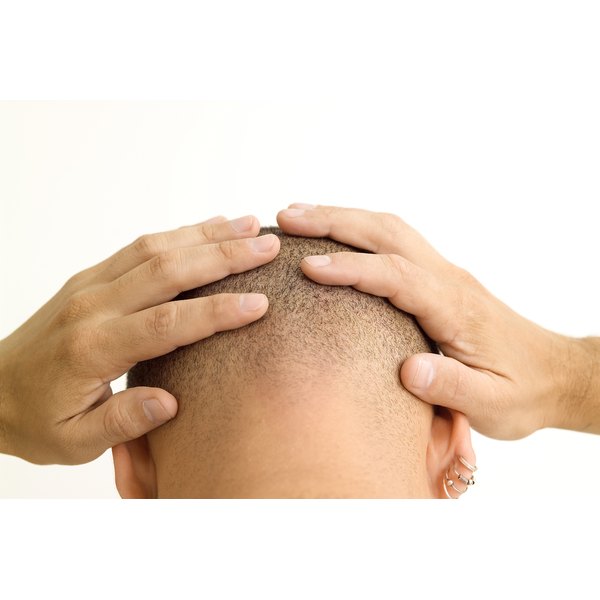 Pharmaceutical drugs are big business in India, where lax laws pertaining to patents helped make the country one of the leaders in generic drugs. Generic versions of frequently prescribed medications are widely available on the Internet for a reduced cost, and you don't need a prescription. Among these are generic versions of finasteride, the leading prescription treatment for hair loss. Never take prescription medications without consulting your physician.
Drug Patents in India
In an effort to boost the Indian economy, Prime Minister Indira Ghandi modified India's drug patent laws in 1970 so that patents cover only the actual process of making a prescription drug, not the drug itself. That led to numerous Indian companies selling generic versions of drugs made in the United States. Beginning with the Patents Act of 2005, India agreed to conform to guidelines set forth by the World Trade Organization regarding drug patents, but many provisions of the 2005 act still made it possible for the country to produce generic drugs. One provision is that drugs patented before 1995 were not protected, so generic drugs for hair loss are still being manufactured.
Finasteride
Finasteride is the active ingredient in Propecia, which is the best-selling prescription drug for hair loss. Merck, the manufacturer of Propecia, claims that 90 percent of men either regrew hair or suffered no additional hair loss after five years of treatment. There are several generic versions of Propecia available from Indian manufacturers. Cipla markets its 1 mg finasteride tablets under the name Finpecia, while Dr. Reddy's Laboratories sells its 1 mg finasteride tablets under the name Finax. Both companies also make 5 mg tablets of finasteride and suggest splitting the tablets into four parts to save money. Cipla's 5 mg tablet is called Fincar, and Dr. Reddy's is Finast. Another Indian company, Samarth Pharma, sells a 5 mg finasteride tablet called Fistide.
Dutasteride
Dutasteride is not an approved by the FDA for hair loss, but some studies have shown it to be more effective than finasteride in treating male pattern baldness. A study that appeared in the June 2006 issue of the "Journal of the American Academy of Dermatology" concluded the dutasteride was more effective than finasteride after 12 weeks and 24 weeks. Dutasteride is sold under the name Avodart in the U.S. and is made by several Indian companies, including Dr. Reddy's, which sells .5 mg tablets as Dutas, and Cipla, which manufactures Duprost. Ranbaxy also markets .5 mg dutasteride tablets as Dutagen.
Safety
Since the U.S. Food and Drug Administration, or FDA, does not regulate generic drugs manufactured in India, safety and effectiveness are a concern. In the past, the FDA has issued warnings to Indian drug manufacturers such as Ranbaxy for poor quality control and manufacturing practices. Before beginning any drug treatment on your own or switching to a generic version of a prescribed medication, speak to your physician.