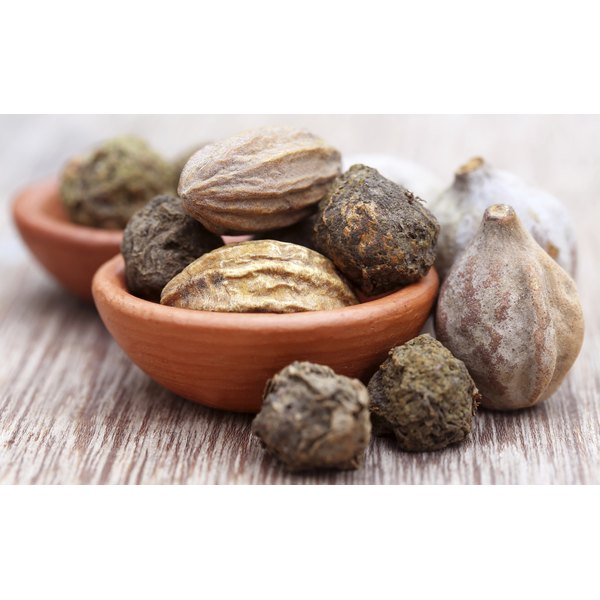 Triphala is a herbal supplement derived from the fruit of three trees native to India and the Middle East. The fruits are dried, ground into a powder and blended in accordance with an Indian millennial healing tradition known as Ayurveda. The healing properties of Triphala have attracted the attention of Western medical researchers seeking new therapeutic compounds to treat a range of health conditions.
Composition of Triphala
Triphala is comprised of equal parts of three herbal fruits: Harada, Amla and Bihara. The first fruit is believed to promote digestion and treat acute and chronic constipation. The second is believed to increase gastric emptying and possess antimicrobial properties. The third is a source of protein, oils and linoleic acid, an omega-3 essential fatty acid.
Gastrointestinal Motility
Triphala is believed to promote gastrointestinal motility. Proper digestion and absorption of nutrients entails the contraction and relaxation of muscles located in the stomach and intestine. When the nerves of the gastrointestinal tract fail to function normally, health conditions may occur such as irritable bowel syndrome. Doctors often prescribe prokinetic drugs to treat gastrointestinal conditions. In a study published in the "Journal of Postgraduate Medicine," researchers found that triphala is equally effective in gastric emptying as prokinetic drugs without producing negative side effects.
Antibacterial Effects
Triphala is also believed to possess antibacterial properties. In a study published in the "Journal of Ethnopharmacology," researchers found evidence of antibacterial activity against various bacterial species such as Helicobacter pylori, a bacterium associated with the development of gastritis, ulcers and stomach cancers. A subsequent study published in the December 1998 issue of the same publication found that Triphala inhibits the growth of Streptococcus. In particular, oral rinsing using Triphala extract was shown to create a protective effect indicating a potential role in dental care.
Antioxidant and Antitumor Effects
Triphala is further believed to possess antioxidant and antitumor properties. One of its three constituent fruits, Amla, is the world's richest source of vitamin C. In a study of patients ingesting Triphala published in the January 2001 issue of "Indian Journal of Physiology and Pharmacology," the fruit led to improvements in lipoprotein serum profiles, including increased HDL, decreased LDL and lower total cholesterol levels. Researchers also isolated a number of tannins in Amla that may contribute to Triphala's antioxidant properties. The Amla fruit is further believed to extend life span for animals with tumors.