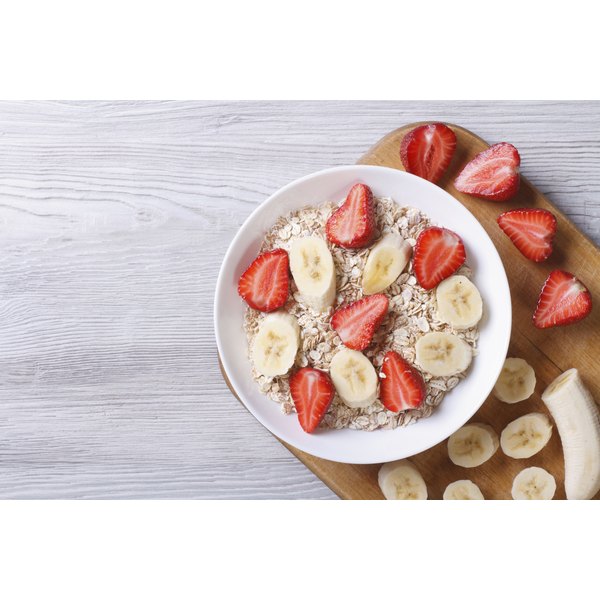 P90X combines cardiovascular exercise, ab workouts, plyometrics, martial arts, yoga and resistance training into a series of at-home workout DVDs. Although a lot of focus is placed on the workouts, the P90X nutrition guide notes that maintaining the right diet is just as important to your success as the fitness portion of the program. What you eat for breakfast on the program depends on which phase you're in.
Making It Work for You
The P90X nutrition plan was designed for you to follow each phase for 30 days while you complete the 90-day workout. Because every person's body and goals are different, there is room to tailor the nutrition plan. If you have a lot of body fat to lose, you may want to remain in the fat shredder phase longer than 30 days. If you're already lean, but attempting to reach your peak physical performance, you can shorten the fat shredder phase and spend more time in the energy booster and endurance maximize phases. The key is to have enough energy to sustain the intense workouts that define P90X. Use the recipes that come with the nutrition guide to ensure you're taking in the correct number of calories and macronutrients.
Fat Shredder
The goal of the first nutrition phase of P90X -- called fat shredder -- is to shed excess body fat while also strengthening muscle. During this phase, your diet will consist of 50 percent protein, 30 percent carbohydrate and 20 percent fat. Breakfast options on the fat shredder phase include an egg-white mushroom omelet with strawberries and cottage cheese, a protein shake made with skim milk, berries, banana and protein powder or a spinach scramble with skim milk and a grapefruit. You can also go basic with egg whites, turkey bacon and a glass of skim milk or a whole wheat bagel with low-fat ham slices and a pear on the side.
Energy Booster
While in the energy booster phase of the program, the goal is to continue shedding body fat while increasing energy. Your diet will consist of 40 percent each of protein and carbohydrate and 20 percent fat. While you're on the energy booster phase, you choose from breakfast options like oatmeal made with skim milk, protein powder and raisins, a whole wheat bagel with cottage cheese and an orange, whole wheat waffles with a half of a banana and skim milk or a protein shake.
Endurance Maximizer
The endurance maximizer phase is designed to support peak athletic performance. On this phase, carbohydrate intake increases to 60 percent and fat and protein intakes fall to 20 percent. Because the endurance maximizer phase is all about carbohydrates, you choose from breakfast options like a blueberry muffin with nonfat plain yogurt and berries, whole grain waffles with peanut butter, a banana and skim milk, low-fat granola with nonfat plain yogurt and strawberries or a whole wheat bagel with fat-free cream cheese, nonfat plain yogurt and berries.