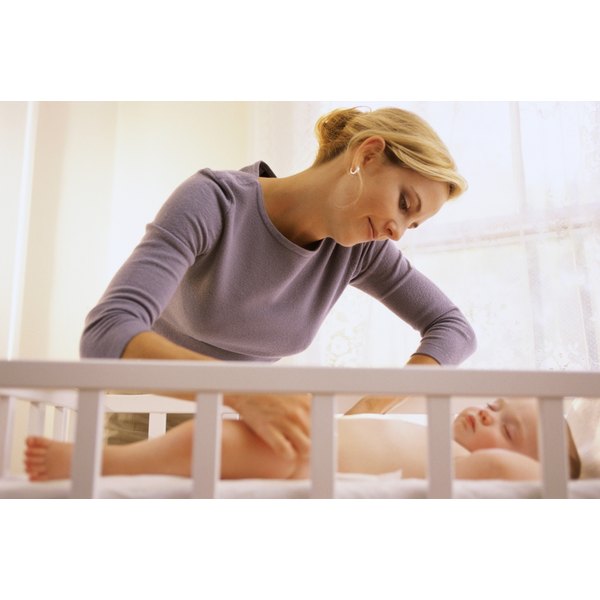 Bassinets are a popular alternative to cribs during a baby's first months when parents often want the child to sleep in the same room. When looking for a suitable bassinet, keep in mind that all are not created equally. Some violate safety standards and are not good choices for your little one. When you bring the bassinet home, follow strict safety rules to ensure that when you lay your baby down to sleep, you do so in a safe and comfortable manner. Bassinet safety is not a topic to take lightly for new parents.
Mobiles and Accessories
Bassinets often come with attachments, such as mobiles to help soothe your baby to sleep. Beware of the safety risk this could pose to your child. Never use any type of attachment that leaves toys or strings hanging into the bed, as they could be a strangulation hazard. Consumer Reports recommends that accessories are placed well out of the baby's reach, for looking at only.
Blankets
Although your baby might look chilly lying in his bassinet, you should never use blankets or pillows. In the small, enclosed environment of the bassinet, these could become a suffocation hazard. Instead of adding blankets, use pajamas. Never put anything in the bassinet that didn't come in the original packaging.
Sleeping Position
Always place your baby on her back to sleep to minimize the risk of Sudden Infant Death Syndrome, advises the American Association of Pediatrics (AAP). In this way, a bassinet is no different from a regular crib.
Bassinet Safety Standards
The U.S. Consumer Product Safety Commission (CPSC) sets certain standards for every bassinet to have. A bassinet should have a firm mattress for the baby to sleep on. The sheet that covers the mattress should fit the mattress snugly. The edges of the bassinet should be made of a breathable material, preferably mesh, so that if your child rolls in the night, he doesn't become suffocated when his mouth is pressed against the edges of the bassinet. Your child should only sleep in a bassinet until he is approximately 1 month old or weighs 10 lbs.; then he should be moved to a full sized crib. Take note of the manufacturer's recommendations for the size requirements so that you can be sure that your baby is safe.
CPSC Warnings
Some bassinets are not safe for any baby. In 2008, the CPSC recalled all of Simplicity bassinets that had a drop down leaf for co-sleeping. The leaf was held by a metal bar. When children slipped out of the bassinet, they were caught by the bar and strangled. The CPSC notes that any bassinet with moving parts can be hazardous to your baby.
Heirloom Bassinets
Unfortunately, though you may want to use a bassinet that you slept in as a baby, or one that has been in the family, bassinets made more than 5 years prior to your baby's birth do not conform to the latest safety standards and are not safe to use as a sleeping option for your baby. Use the heirloom bassinet to hold toys and purchase a new one for sleeping.