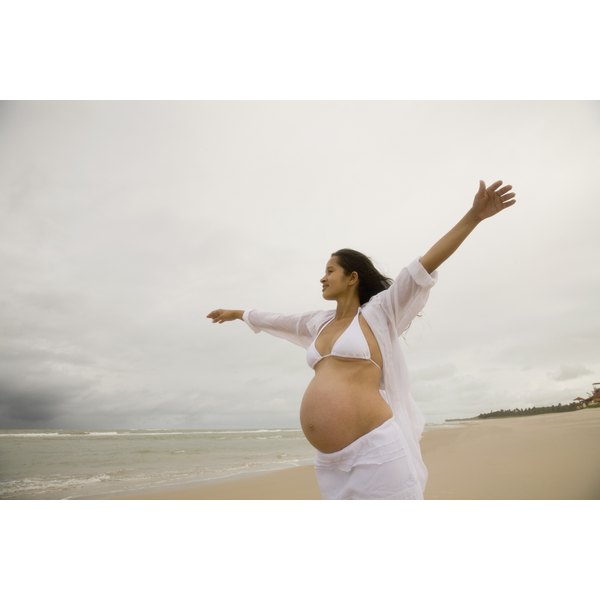 Pregnancy changes your life as soon as you get that positive test. You suffer from a range of symptoms, from nausea and exhaustion to aches and pains, as your belly grows. So a little pampering might be in order to keep your spirits up during pregnancy. Many women enjoy foot massages during a pedicure or bronzing their skin. Understanding the effect these activities have on your health is essential.
Foot Massages
Foot massages are safe for pregnant women as long as the person performing the massage knows what areas to avoid. Massaging the area between your anklebone and heel can trigger contractions, so it must be avoided. Schedule a prenatal massage with a licensed massage therapist, who will know the spots to avoid when rubbing your feet. If you're getting a pedicure, it is safest to skip the foot massage since not all nail technicians know to stay away from that area to prevent contractions.
Benefits of Foot Massages
A foot massage by a knowledgeable massage therapist is particularly enjoyable for pregnant women. By their third trimester, many pregnant women experience edema, or swelling, and the feet and ankles are often prone to swell as the pregnancy progresses. A relaxing foot massage can take some of the pressure off of your feet, which are carrying more weight than usual thanks to your growing belly.
Tanning
Pregnant women should avoid too much time in the sun, as they are more susceptible to being burned. Your sensitive, stretched-out skin burns more easily, so UV rays can be particularly dangerous. Moreover, you are at risk of developing chloasma, or dark splotches on your skin, particularly your face. Tanning, whether naturally or artificially, can also increase your body temperature, which you should avoid during pregnancy.
Safe Tanning
If you want that sun-kissed look while you are pregnant, turn to tanning lotions, which give you that glow without putting you or your baby's health at risk. Dermatologist Sandra Johnson reports on BabyCenter that tanning lotions are harmless, making this the ideal way to tan during your pregnancy.