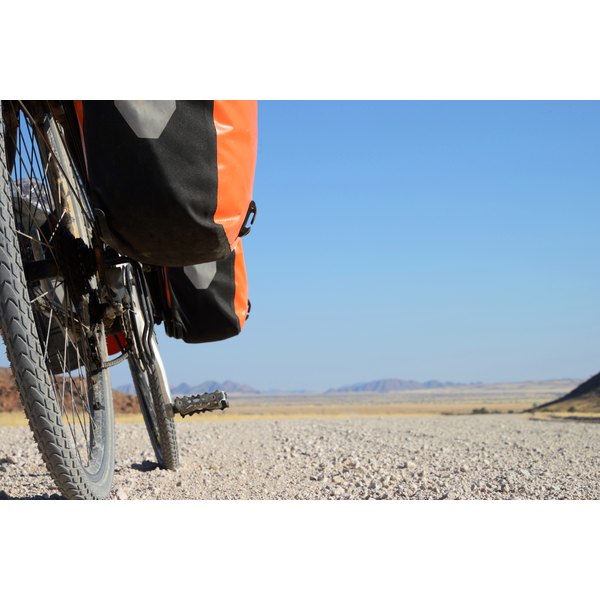 Because it builds endurance, burns fat and allows you to see new sites, you should take a long ride -- one considerably longer than your normal -- every week or two. While riding 10, 15 or 20 additional miles poses quite a challenge, planning, proper pedaling and one additional piece of equipment can help you meet it.
Track Terrain and Wind Conditions
Doubling the length of a ride makes it tough enough, but encountering three unexpected hills in the last 5 miles could force you to dismount and walk. Therefore, any time you do a long ride, you should know the terrain. If you're adventuring into unknown territory, check the elevation on one of the many free Internet sites designed for planning rides. Similarly, you should never begin a long ride without knowing the direction and speed of the wind. Besides providing insight into how to best dress, a stiff wind can dictate the direction of your ride. When riding longer than normal, pick a route that provides a tailwind towards the end. Virtually all Internet weather sites supply wind speed and direction.
Pedal in Circles
A faster, smoother pedal stroke uses less energy than a slower, more forceful one, and since you produce about 5,400 pedal strokes per hour, pedaling in circles rather than mashing down on the pedals "keeps your legs fresher for late in the ride," according to former U.S. National Cycling Team coach Craig Griffin. To pedal in circles, two-time Tour de France winner Greg LeMond suggests mimicking the motion used for scraping mud off the bottom of your shoes on a curb. By doing so, you expend less total energy, yet generate some power through the backstroke, something that mashing down doesn't do.
Eat and Drink -- But Not Too Much
A big rider riding really hard can burn up to 1,000 calories per hour, yet during exercise the body can only assimilate about a third of those calories. As a result, if you eat to keep pace with energy expenditure, most of the calories will sit in your stomach and you'll feel terrible. Instead, take in small amounts of calories frequently -- every 30 minutes or so. You're not replacing all the calories lost, but 200 to 350 per hour will keep you going. And while it's likely you'll lose 32 ounces of fluid per hour on your ride, you only need to drink 16 ounces per hour to keep from dehydrating on even a three- to four-hour ride. Drink too much and you could cramp.
Use Clip-On Aero Bars
To enjoy a long ride, you need to be comfortable, but you may find that riding longer than normal causes pain in your hands, arms, shoulders or neck. Avoid this by adding clip-on aero bars -- bars that permit you to extend your arms further forward and rest your forearms on pads -- to your present handlebars. Ride in this position when alone or in front of the pack, and you change the contact points between you and the bicycle, giving the typical contact points a break -- and you more comfort. Using clip-on aero bars requires some skill, however, so practice in a safe area before using them on a long ride.