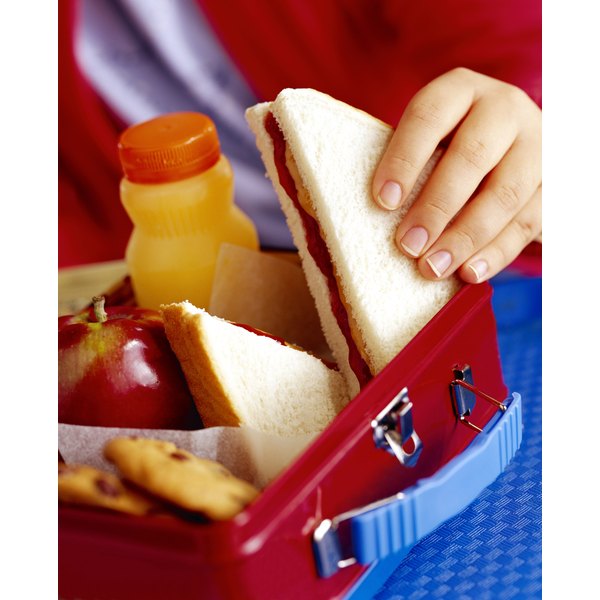 Sandwiches are among the most convenient lunches to make for kids. They're compact, self-contained and can be eaten without any utensils. Unfortunately, many traditional fillings, including deli meats and processed cheese, are high in salt and saturated fats. With a little bit of ingenuity, you can create alternative sandwich spreads that are nutritious and tasty, either on their own or as a condiment with other fillings.
Nut Butters
Peanut butter is one of the quintessential foods of childhood. It's thick, sticky and richly flavored, and it's a rare kid who doesn't love it. Mainstream peanut butter is loaded with extra sugar and additives, but if you start early you, can train your kids to prefer the natural kind, made with just peanuts or peanuts and salt. It's an excellent source of protein and food energy as well as vitamins and minerals. Other nut butters, such as almond butter or cashew butter, are also tasty and nutritious and offer a pleasant change of pace.
Cheese-Based Spreads
Cheese is another source of quality protein that kids love. Commercial cheese spreads have little nutritional value, but they're easily made at home. Mash feta or other soft, crumbly cheeses with low-fat cottage cheese or cream cheese until the mixture reaches a spreadable consistency. Use it on its own as a sandwich filling or combine it with lettuce, tomatoes, cucumbers or any other fresh produce your kids like. Alternatively, use a milder cheese in your mixture and combine it with jam or preserves. Either way, the combination is healthful and nutritious, especially on whole-grain bread.
Vegetable-Based Spreads
There are a number of vegetables that can be used to make sandwich spreads, either as a filling in their own right or as a condiment with other ingredients. Reach into your recipe file for your favorite bean dip, for example, and use that to fill a wrap or sandwich. If your kids are partial to refried beans, they'll also make a hearty sandwich. Cheese-based spreads can be made more nutritious by adding vegetable purees, including cooked carrots, roasted bell peppers, sweet potato, squash or tomatoes.
Mayonnaise Alternatives
Mayonnaise is a common and versatile spread used with sandwich fillings. It adds richness, moisture and flavor, but unfortunately, it's also high in fat and calories. You can dilute its impact by switching to low-calorie mayonnaise or mayonnaise substitute. Another option is to lighten your mayonnaise by mixing it with plain yogurt, which makes it more nutritious. You can also mix mayonnaise with pureed vegetables, which has the dual benefit of adding nutrition and diluting the concentrated calories of the mayonnaise.