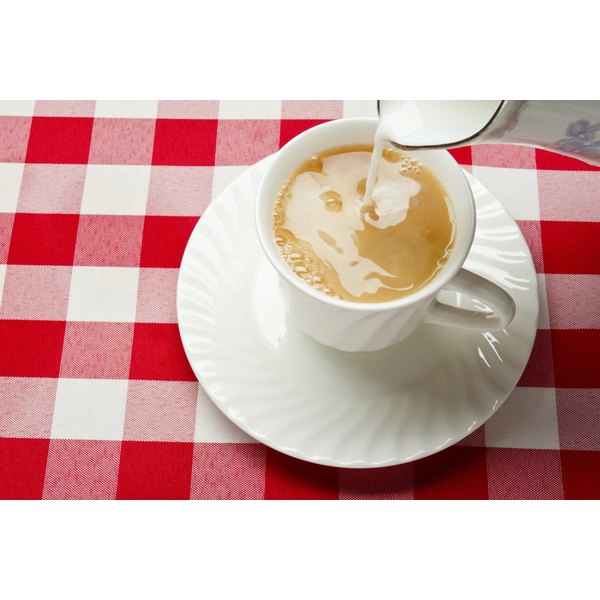 Tea is commonly consumed across the globe, in preparations ranging from green tea lattes to traditional sweetened chai. Both green and black tea leaves contain antioxidant compounds known as tea flavonoids. Adding milk to your brewed tea reduces the tea's flavonoid content, although evidence is conflicting as to whether milk reduces tea's overall antioxidant effect.
Antioxidants
Antioxidants protect your body from oxidative damage, thereby reducing the risk of cardiovascular disease and several kinds of cancer. It is believed that the protective action of antioxidants stems from their ability to reduce the damaging effects of free radicals in your body. Tea-drinkers in general have been found to experience lower rates of infection, cancer, stroke, osteoporosis and coronary heart disease, according to a 2004 report in the journal "Antioxidants and Redox Signaling."
Tea Flavonoids
Flavonoids are antioxidant substances found in tea, as well as in chocolate and cocoa products. You need roughly 150 mg of flavonoids to experience rapid antioxidant effects, according to a 2002 report in the journal "Current Opinion in Lipidology." Tea brewed for two minutes typically contains around 170 mg. of flavonoids in a 235 ml serving, enough to provoke short-term antioxidant effectss. For longer-term effects, about 3.5 cups of brewed tea provide sufficient flavonoids.
Milk Reduces Antioxidants
The way you prepare your tea, and the addition of milk, affect the tea's antioxidant content, according to a study reported in the "International Journal of Food Sciences and Nutrition" in May 2000. This study compared the antioxidant content of green and black teas brewed at different temperatures and with or without milk. Maximum antioxidant content was noted when teas were brewed at a higher temperature, and from loose leaves rather than from teabags. With black tea, adding milk reduced the antioxidant content of the prepared drink. Whole cow's milk had the greatest antioxidant-reducing effect, probably due to its higher fat content. The study authors recommend taking tea without milk or with fat-free milk to maximize antioxidant content.
Expert Opinion
Research carried out by a team from the Indian National Institute of Nutrition, and reported in the May 2005 journal "Annals of Nutrition and Metabolism," argues that adding milk to black tea does not change its antioxidant potential. These researchers conducted a controlled study on the antioxidant effects of milky or plain black tea on healthy adult male tea drinkers. Milky tea led to lower antioxidant levels in the human body, but did not seem to reduce antioxidant activity.