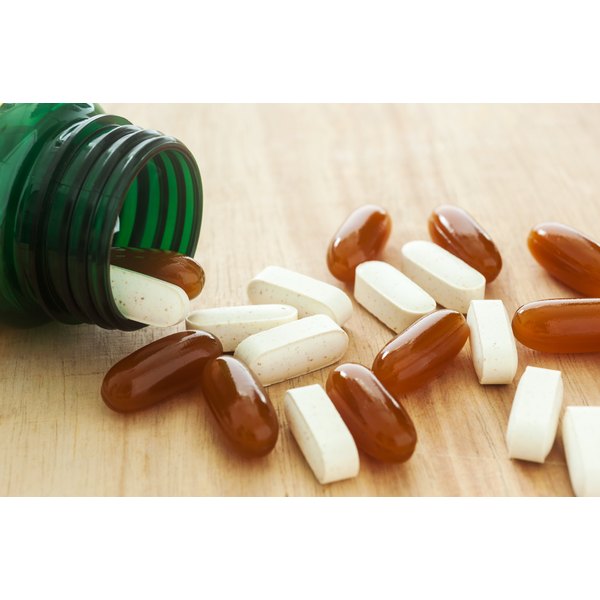 Your body utilizes several vitamins each day to carry out your cells' daily function and support your overall health. Among the essential vitamins your body requires is vitamin A, a group of related chemicals called retinoids. Vitamin A palmitate, also called retinyl palmitate, is a specific form of vitamin A that can come from both natural and synthetic sources.
Types of Vitamin A
The vitamin A in your diet can come in a number of forms. Vitamin A palmitate is considered a preformed vitamin A: Your body can immediately utilize this form of vitamin A to carry out functions within your cells. In contrast, carotene forms of vitamin A -- the red, orange and yellow pigment in some foods -- is considered a vitamin A precursor. Upon ingestion, your body breaks down carotene molecules into vitamin A before it can be used in your cells. Vitamin A palmitate can occur naturally in some foods, but it can also be synthesized within a lab then added to foods to boost their vitamin content.
Vitamin A Palmitate Function
After consumption, both natural and synthetic forms of vitamin A palmitate benefit your health. The vitamin supports your immune system by maintaining your skin, plays a role in cellular communication to guide tissue maturation and nourishes tissues like your retinas. In addition, sufficient vitamin A intake -- from vitamin A palmitate or other forms of the vitamin -- proves important for expecting mothers, since it plays a role in proper fetal development. Any unused vitamin A palmitate in your body moves to your liver, where it is stored for future use.
Sources
A number of foods provide a source of preformed vitamin A palmitate. Food manufacturers sometimes add vitamin A palmitate to dairy products, such as milk or low-fat yogurt, since processing and removing fat from the milk reduces its natural vitamin A content. Re-adding synthetic vitamin A helps restore the food's vitamin A content and helps to fight vitamin A deficiency. In addition, meats like beef, fatty fish and organ meats naturally contain retinyl palmitate. Many vitamin supplements also contain retinyl palmitate as a source of vitamin A.
Considerations
Consuming too much synthetic or naturally occurring vitamin A palmitate can pose a health risk. Excess vitamin A palmitate can begin to accumulate in your liver, causing liver damage as well as a number of negative side effects, including a risk of brain damage. In addition, excessive vitamin A palmitate consumption can harm a developing fetus, increasing the risk of birth defects. To prevent negative side effects when consuming vitamin A palmitate, talk to your doctor to discuss a safe intake level.