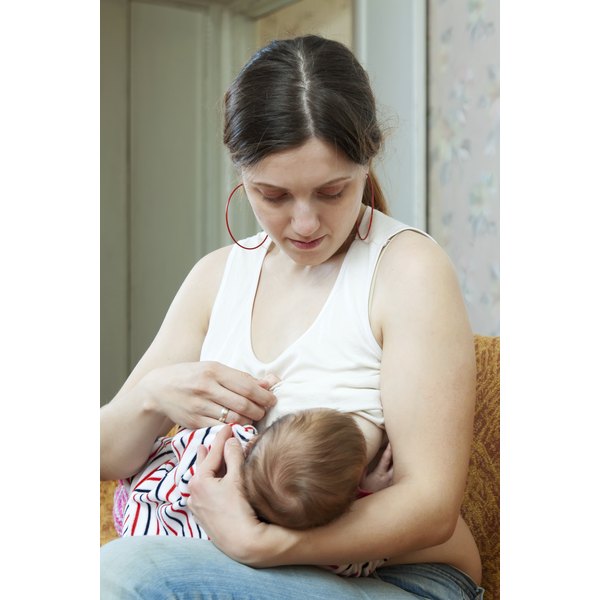 Meclizine, which is available over the counter and by prescription, treats nausea, motion sickness and vertigo. According to the U.S. National Library of Medicine's LactMed database, "occasional" doses of the drug are "probably acceptable" for breastfeeding mothers, although lactation itself may be affected. If you are pregnant or nursing, always check with your doctor before taking any medication.
Meclizine
Classified as an antihistamine, meclizine is sold as a capsule and as a regular and chewable tablet under various brand names including Dramamine, Antivert and Medivert. If you are pregnant or nursing, consult a doctor for advice and dosing instructions before taking meclizine. To treat motion sickness, take the medicine at least one hour before traveling. Doctors also prescribe meclizine to treat dizziness associated with an ear condition, severe nausea in pregnant women, or nausea and vomiting following surgery or cancer radiation treatment.
Baby's Safety
As with many medicines, taking meclizine while breastfeeding means some of the drug may pass to your nursing baby. The LactMed database reports that some infants of breastfeeding mothers taking the drug exhibited "irritability," "colicky symptoms" and drowsiness. However, none of the symptoms were serious enough to warrant medical attention. According to the Mayo Clinic, animal studies did produce evidence of meclizine-related birth defects, such as cleft palate, but these animals were given meclizine in doses several times higher than the human dosage. No birth defects connected with meclizine have been reported in human babies.
Effect on Lactation
In general, antihistamines slow down bodily secretions -- a circumstance which may also apply to the production and release of prolactin, the hormone that stimulates lactation. According to the LactMed database, injections of high doses of meclizine may affect the prolactin levels in non-lactating women and in early post-partum mothers -- especially if milk supply is not well-established or if the drug is taken for a prolonged period or in combination with certain other drugs, such as pseudoephedrine. So far, however, no evidence shows whether the lower, oral dose of meclizine reduces prolactin levels or hinders breastfeeding success.
Cautions
Tell your doctor if you have allergies, smoke cigarettes, drink alcohol or take other medications. Also, meclizine may cause serious problems in a woman with glaucoma, an intestinal blockage, trouble urinating or a lung condition such as asthma, bronchitis or emphysema. Side effects associated with meclizine use include dry mouth, diarrhea or constipation, headache, and drowsiness or fatigue. If the effect is severe or does not go away, call your doctor. Call for emergency help if you experience blurred vision, very fast or irregular heartbeat, wheezing, trouble breathing, skin rash, hives or severe confusion.