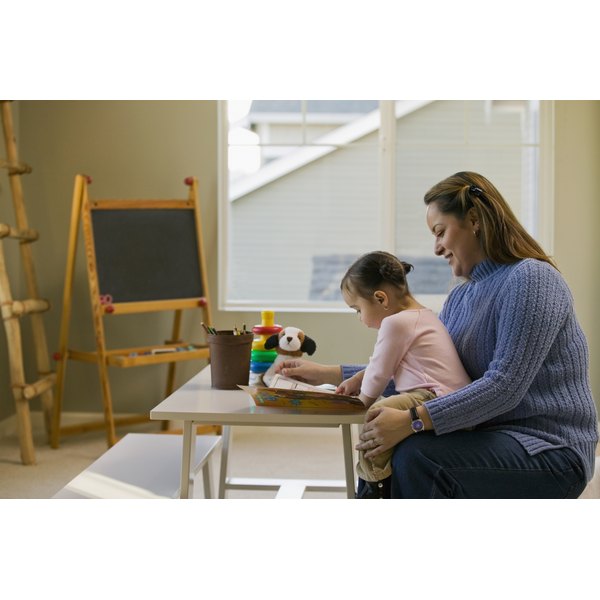 It's no secret that language skills are important for success in life, and being able to sustain a conversation helps kids build meaningful relationships. Although most kids learn their language and conversation skills organically, you still have a significant part to play in your child's social development. Recognizing opportunities for conversation and interaction helps your child pick up language skills and understand the basics of social interaction.
Make It Real and Relevant
Just like you enjoy talking about things that interest you, so does your child, so engage her in conversation topics that relate to her daily activities. For example, see playtime as an opportunity for discussion. Ask your child about what her dolls are doing if she's role-playing with them on the floor, or ask her how she could build the highest tower possible with her set of blocks. You also could ask your kids about a movie or TV show you saw together, or comment about what's going around you at the park.
Encourage Listening Skills
Engaging in meaningful conversation is as much about listening as it is about talking. Encourage your child to listen and pay attention by reading with him and asking him about details of the story. For example, after reading that a character in your son's book hid under the bed, check that your child was listening by saying: "Where did the boy hide?" When your child asks you a question and your provide an answer, occasionally check for listening and comprehension. Ask "What did you hear me say?" Praise your child for his good listening skills if he answers you correctly.
Talk About Non-Verbal Cues
When it comes to understanding a conversation, nonverbal cues are important for getting what someone's trying to say. Help your child understand facial expressions by asking about them. For example, if you're reading a picture book, point to one of the characters and ask, "How do you think she feels right now? Why do you think she feels that way?" To help your child understand jokes, ask him what it means when someone says something that sounds serious while wearing a big smile.
Use Lots of Questions
Questions keep conversations going, so ask your child lots of them and encourage your child to ask questions of her own. Favor open-ended questions, instead of questions with yes or no answers. You'll get a more detailed response from your child. Get your child to ask other children questions too. Make suggestions if she struggles with initiating conversation: "Why don't you go ask that other little boy what game he's playing in the sandbox? If you want to play too, you could always ask to join in."
Know Developmental Milestones
While most children develop conversation skills on their own when parents and caregivers offer opportunities, others may need extra help to catch up with their peers. Eighteen-month-old children should already show basic interaction skills by offering toys to others and responding briefly to caregiver comments. The California Department of Education gives the example of a child responding "woof" to a parent talking about a toy dog, for example. By 36 months, most children can engage in brief back-and-forth exchanges, building on what a caregiver said. If you have concerns about your child's language development, a speech-language pathologist can offer a comprehensive evaluation and professional advice.