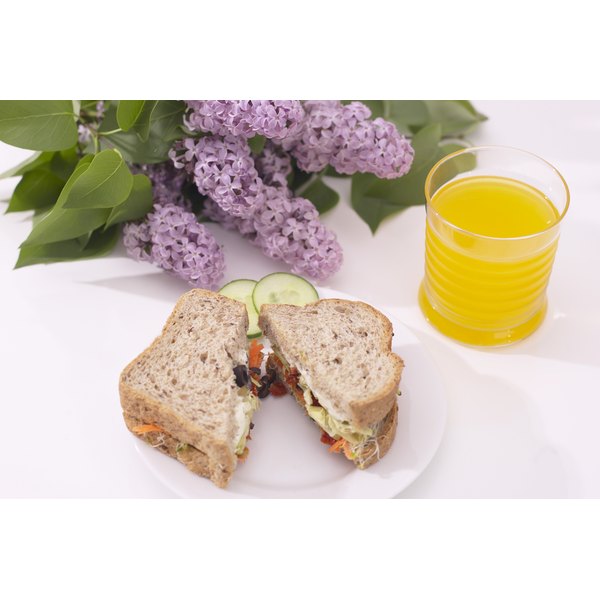 Between 1970 and 2008, the incidence of teen obesity rose from six to 18 percent, fueled in part by a diet filled with pizza, soda, bread and grain-based desserts. To avoid packing on the pounds, teenagers should participate in regular physical activity and consume no more than 1,600 to 2,400 calories per day, depending on their age, gender and level of physical activity. A nutritious lunch is of particular importance to teens, because the right foods help them to remain attentive and focused. Some creativity and planning is necessary, however, to devise nutritious lunches that your teen will eat.
Focus on Flavors
Teens want foods that are familiar, look cool and taste good, so simply giving a healthy twist to favorite dishes can make both you and your teen happy. Instead of processed chicken nuggets, offer your teen homemade, oven-baked chicken pieces and sweet-potato chips. Create individual veggie pizzas using whole-grain English muffins as a base, make a rich chili using ground turkey and kidney beans, or top some whole-wheat tortilla chips with fresh tomato salsa and black bean salad.
Snack-Sized Bites
If your teen prefers to graze at lunchtime, offer her a smorgasbord of small bites. Skewer cubes of turkey and low-fat cheese on toothpicks or small skewers. Or make turkey "sliders" using small sandwich rolls topped with turkey and cheese; whole-wheat mini-bagels with low-fat peanut butter or lettuce and tomato; or celery, carrot and cucumber sticks with low-fat salad dressing for dipping.
Tasty Sandwiches
When making sandwiches for your teen, think beyond bologna, tuna fish, peanut butter and white bread. Celebrity chef Cat Cora uses protein-rich hummus as a spread for whole-wheat bread and then tops it with an assortment of vegetables. Low-fat, flavored cream cheese also makes a good sandwich base, particularly when topped with thin slices of cucumber or fresh blueberries. Instead of peanut butter, try topping your teen's sandwich with almond butter and dried cranberries, apple butter and apple slices or spreadable cheese and thinly sliced ham. Look for substitutes for plain bread when making sandwiches; use rice cakes, mini-bagels or pita pockets instead.
Wrap It
Wrap last night's leftovers in a tortilla wrap for a lunch for your teen. Start with a lettuce and tomato base; add some low-fat cheese and sliced leftover meat, poultry or fish; and add low-fat dressing for a nutritious and satisfying lunch. To lighten it up even more, use leaves of bib, butter or iceberg lettuce instead of tortillas. Make an inside-out wrap by wrapping low-fat cheese and thinly sliced turkey, ham or roast beef around a celery or pretzel stick.