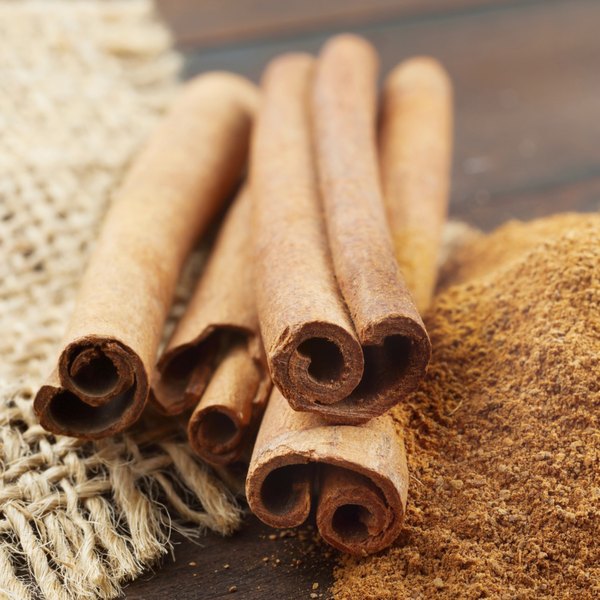 Hypertension is the medical term for high blood pressure. This disorder affects as many as 2/3 of Americans over the age of 65, according to the University of Maryland Medical Center. Lifestyle changes, including diet, may help minimize your risk of hypertension. Although some alternative therapies, such as cinnamon and honey, may provide certain health benefits, consult with your doctor before treating hypertension with unproven remedies.
Hypertension
Hypertension occurs when your average blood pressure measures consistently higher than 90/140. This condition seldom causes symptoms early on, although advanced cases of hypertension often causes severe headaches, nausea, visual disturbances, confusion and seizures. There are several things you can do to lower your risk of this dangerous disorder. Control your weight by eating a diet rich in fruits and vegetables to reduce your risk of hypertension. In addition to dietary changes, prescription medications, such as beta-blockers and diuretics, provide the most common forms of treatment for hypertension.
Cinnamon
Cinnamon has a long history of treating various health disorders, including hypertension. The bark of the plant provides the medicinal ingredients, including the essential oil that contains the strong fragrance and flavor. Some research indicates that this herb may prove beneficial in reducing blood pressure. One study involving 58 people found that daily doses of cinnamon lowered both blood sugar and blood pressure levels, according to NYU Langone Medical Center.
Honey
Honey contains about 80 percent sugar, as well as traces of protein, minerals and water. Your body can easily absorb and utilize honey, making it a useful source of carbohydrates. Although preliminary research suggests that honey may play a role in reducing hypertension, never self-treat any condition you have been diagnosed with. Speak to your doctor before adding honey to your diet for hypertension, especially if you are already on medication to lower your blood pressure.
Precautions
Although honey and cinnamon are safe for most people to consume, they are not customary or recognized treatments for managing or reducing hypertension. Honey may cause diarrhea in some people and this natural substance is unsuitable for babies under one year of age, due to the risk of botulism. Cinnamon may interact with certain medications, especially diabetes drugs. The essential oil is highly concentrated and may be toxic. Avoid ingesting the oil of cinnamon, and only use the herb as a medicinal treatment under the supervision of your doctor.