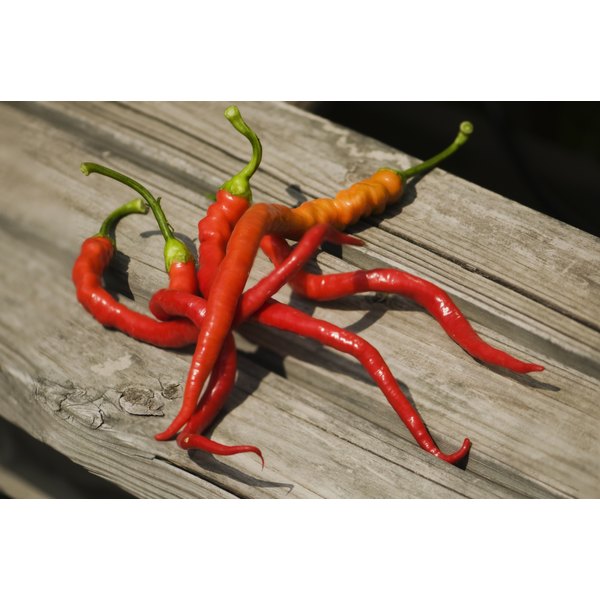 Cayenne pepper, known for its hot and spicy qualities, and lemon, a cooling and sour-tasting fruit, may seem to exist at opposite ends of the fruit spectrum. Each, however, provides health benefits that may promote weight loss in some people. Consult your doctor to learn about safe weight loss and why cayenne pepper and lemon might be effective components of your diet plan.
Capsaicin
Capsaicin, the active ingredient in cayenne pepper, reduced calorie intake in participants of a clinical trial conducted by the Department of Food Science at the University of Copenhagen in Denmark. In the study, 27 participants ate calorie-restricted diets or diets with excess calories for three weeks, along with capsaicin, green tea and sweet pepper extract. The combination of all three resulted in a reduced calorie intake for those offered the excess calorie diet. Capsaicin with green tea suppressed appetite and increased satiety for those eating the calorie-restricted diet. The study was published in the June 2009 issue of the journal "Clinical Nutrition."
Bowel Regularity
Lemon juice promotes healthy digestive function by stimulating bowel regularity, says Theresa Cheung, author of the book "The Lemon Juice Diet." Drink a glass of lemon water prepared by squeezing the juice of one fresh lemon into a glass of warm water first thing each morning. Use filtered water to avoid consuming toxins and chemicals that can deplete your body of nutrients, upset your hormone balance and promote water retention. You can also drink a couple more glasses of lemon water throughout the day to maintain your fluid balance and cleanse your system. If you're not partial to water by itself, lemon-flavored water might encourage you to drink more. Higher water consumption promotes weight loss by decreasing appetite and flushing toxins and wastes out of your body.
Metabolism Boost
Capsaicin may promote weight loss by increasing metabolism, says David Dodson, author of the book "The Diet Pill Guide: The Consumer's Book of Over-the-Counter and Prescription Weight-Loss Pills." He notes, however, that this attribute of cayenne has yet to be proven in clinical trials. The heat-producing effects of this cayenne pepper compound are invigorating and may promote weight loss by stimulating blood flow and perspiration, ridding your body of toxins and excess fluids.
Alkalizing
The powerful alkalizing effects of lemon juice promote weight loss, says Robert O. Young, author of the book "The pH Miracle for Weight Loss: Balance Your Body Chemistry, Achieve Your Ideal Weight." When your system is overly acidic it accumulates fat as a way to buffer the acid to protect your tissues from being broken down. Excess acids are stored in fat tissue and fats assist in eliminating some acids from the body. Lemon juice, which is one of the most alkalizing foods, prevents excess acids from accumulating and prevents your body from storing fat as a way to offset these damaging acids.