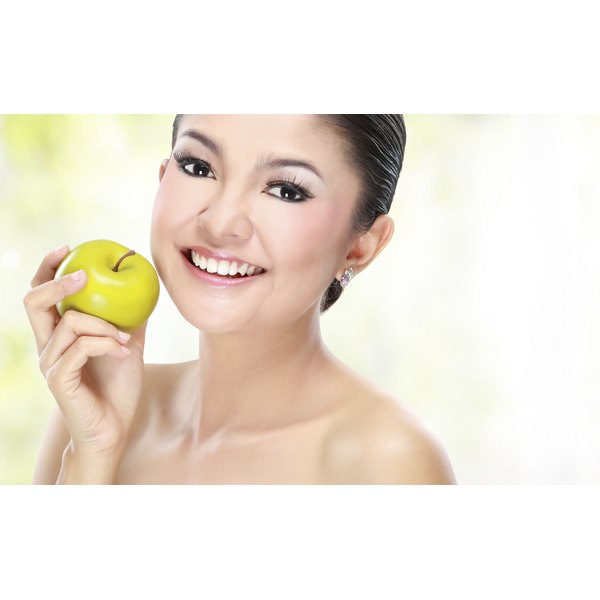 Eating an apple a day may not completely keep the doctor away, but it may help to lower blood pressure. Nearly 68 million American adults suffer from high blood pressure, or hypertension, according to the Centers for Disease Control and Prevention. Hypertension can do a lot of damage — including increasing your risk of a stroke or heart disease — without causing noticeable symptoms. Dietary changes such as eating more apples can help to control it, but it's important to check with your doctor prior to introducing significant changes to your diet -- particularly if you suffer from any chronic conditions.
Uric Acid
Apples are rich sources of antioxidants such as flavonoids and vitamin C. Antioxidants help to protect blood vessels from damage, which plays a role in maintaining healthy blood pressure. However, researchers at the Linus Pauling Institute indicate that apples' benefits with regard to blood pressure may be linked more to their ability to increase uric acid in the blood, which, in turn, boosts antioxidant levels in the blood. So, while persistently high levels of uric acid is problematic for people with conditions such as gout, for those with normal levels, a short-term boost kick-starts antioxidant activity and may help lower blood pressure.
Fiber
Apples are a sound source of fiber, especially soluble fiber in the form of pectin. In a Tulane University study published in the "Journal of Hypertension" in March 2005, researchers found that adding fiber to your diet has a healthy effect on blood pressure. It's not the first study with these findings, but previous trials were small. This study involved 1,477 adults, giving the results more weight.
Handling Apple Allergies
If you've ever suffered reactions such as hives, itching or nausea after eating apples, you may be allergic to them, but that doesn't necessarily mean you have to completely omit them from your diet or treatment plan for high blood pressure. Apples are among the fruits commonly associated with food allergies. For some, cooking the apples for a few minutes usually prevents allergic reactions. Speak to your doctor or a dietician about ways to minimize uncomfortable reactions to apples while keeping them in your diet.
Considerations
The American Dietetic Association recommends that women eat at least 2 cups of fruits daily and men consume 2 ½ cups. Eating apples as a part of this recommended amount may help lower your blood pressure, but in a well--balanced diet you should eat a wide variety of fruits. Also, if you have had three consecutive high blood pressure readings, consult your doctor as soon as possible. Early intervention minimizes your risk of hypertension complications such as heart disease or stroke.