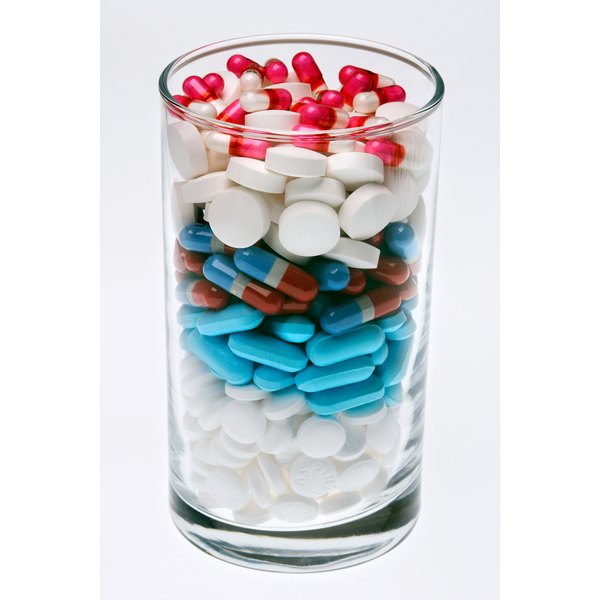 Websites and retail stores offer countless supplements claiming to enhance endurance and performance for teenage and adult athletes during competitive sports. However, most products labeled as dietary supplements fly under the radar of the FDA and may offer no nutritional value whatsoever. For the majority of young athletes, a well-balanced, nutritional daily diet is sufficient for achieving peak performance.
Over-Consumption of Supplements
Dietary supplementation is wide-spread amongst teenage athletes, at least in Canada. A study in the November 2007 issue of the "Clinical Journal of Sport's Medicine" determined the dietary supplementation practices of Canadian athletes of varying ages. The researchers interviewed 314 males and 268 females with an average age of 19 years, representing 27 sports. The participants answered questionnaires and revealed that more than 88 percent of them supplemented their diets with an average of three products each. The researchers stated that sports drinks, sports bars, multivitamins, protein supplements and vitamin C were most often consumed, in that order.
Calcium and Vitamin D
Calcium and vitamin D have been long recognized for improving and maintaining bone strength and density in people of all ages. A study published in the October 2010 issue of "The Journal of Injury, Function and Rehabilitation" reviewed current medical literature on the effects of calcium and vitamin D on young athletes and military recruits. The authors stated that although relatively little has been published on male athletes and calcium and vitamin D intake, female athletes and military recruits consuming 1500 mg of calcium daily have the least amount of reported stress fractures due to sports-related injuries.
Zinc
Zinc supplementation exhibits strong antioxidative effects and may improve performance in teenage athletes involved in wrestling, according to a study in the April 2010 issue of "Biological Trace Element Research." The researchers recruited 40 teenage males for the study, 20 of whom were active wrestlers and 20 sedative individuals. Half of the members of each group were supplemented with zinc, whereas the other half received a placebo. After evaluating several established biological markers, the researchers concluded that zinc supplementation prevents the production of destructive free oxygen radicals and may contribute to the athletes' improved health, physical endurance and performance.
Is Supplementation Necessary?
There is a lack of evidence that dietary supplementation by teenage athletes leads to improved physical performance, according to a July 2009 article published in the "Journal of Pediatrics." The authors found that dietary supplementation is widespread among teenage athletes, who are motivated by enhancing performance, an ideal body image or are attempting to compensate for an inadequate diet. The researchers found that the most widely-used dietary supplements have very little medical evidence confirming any physiological benefits. The article concluded that most teenage athletes require only balanced daily nutrition for good athletic performance.