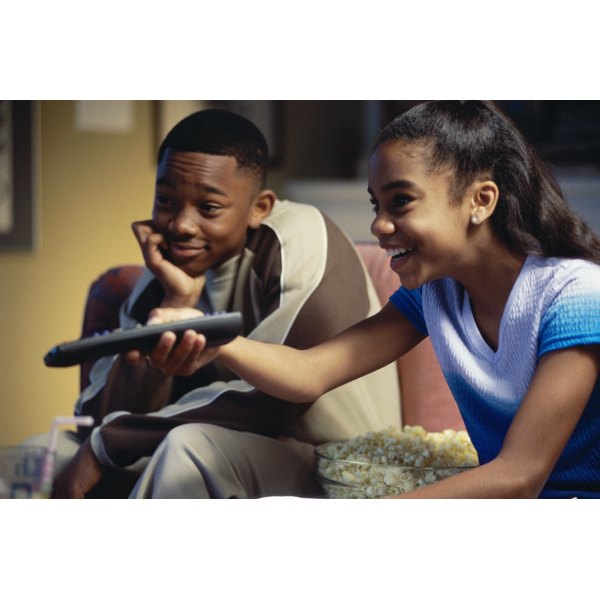 Americans over the age of 15 watch an average of 2.7 hours of television a day, as of June 2010, according to the American Time Use Survey conducted by the U.S. Department of Labor. These viewing habits get started early and can affect your teen's academic performance in a variety of ways. Don't let your teen suffer the consequences of excessive television viewing -- take charge of her viewing habits.
Attention Difficulties
Even a moderate amount of television viewing can negatively affect a teen's grades. A study published in the May 2007 issue of "JAMA Pediatrics" found that watching even one hour a day of television negatively affected grades. Teens who watched this amount of television or greater were less likely to complete homework and more likely to have poor grades, a negative outlook toward school and poor prospects for long-term academic success. These outcomes were most likely if teens watched three or more hours of television a day.
Speech Fluency
Television doesn't only affect a teen's motivation to do well in school. It also can influence cognitive ability, specifically in the area of speech. German researchers published findings in the November 2007 issue of "Pediatrics" that point to television viewing as negatively impacting sleep and speech fluency in school-age children. A lack of speech fluency means that children are having difficulty accessing their entire vocabulary and may not be able to formulate academically appropriate responses in their educational environment, which can result in poor grades. While this study was not performed on teens, it can serve as a warning to parents.
Long-Term Outlook
The television your teen watches today can affect her life years from now. In a New Zealand study published in the July 2005 issue of "JAMA Pediatrics," researchers discovered that teens' television viewing time was directly related to poor educational achievement by age 26. The study's authors found teen television viewing can have "long-lasting adverse consequences for educational achievement and subsequent socioeconomic status and well-being."
Television Tips
If you want your teen to have the best chance of academic success, consider limiting television viewing to less than an hour a day. Save television time for weekends, when your teen wants to watch a show with friends or family. Don't let television viewing become a default activity when your teen is bored. And be careful of letting your teen have a television in his bedroom. A study published in the April 2008 issue of "Pediatrics" found that not only did teens who had a television in their bedroom have less academic success, but they also were less physically active, spent less time eating meals with family and had poor dietary habits.