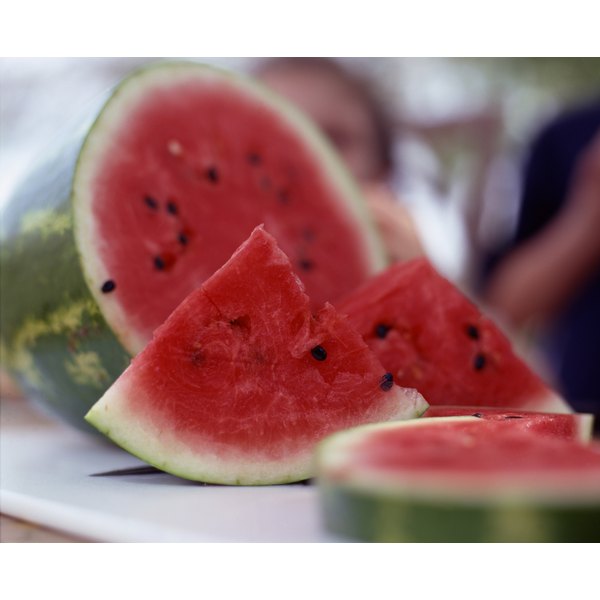 When you're pregnant, your body needs extra nutrition to care for your growing baby. Eating watermelon while you're pregnant can help provide your body with hydration and essential vitamins while also reducing some of the uncomfortable side effects of pregnancy.
Nutritional Benefits
Fresh watermelon is high in vitamins A and C as well as potassium. You'll also get a dose of vitamin B6 and magnesium by eating fresh watermelon. All of these nutrients are especially important during pregnancy. Watermelon also contains lycopene, an antioxidant that can help prevent heart disease and cancer as well as boost you immune system and reduce your skin's sensitivity to the sun. The American Pregnancy Association recommends eating three servings of fresh fruit per day while you are pregnant.
Relief From Pregnancy Symptoms
Eating watermelon can help relieve heartburn that you may experience during pregnancy. The high levels of water and vitamins in watermelon also help keep your body hydrated, which is important to prevent pregnancy fatigue and help your body flush toxins. Snacking on watermelon can even help alleviate feelings of nausea and morning sickness. The potassium and magnesium found in fresh watermelon can alleviate muscle cramps, which are often prevalent for pregnant women in the third trimester.
Preeclampsia Prevention
A study by the "International Journal of Gynecology and Obstetrics" found that by consuming foods high in lycopene, such as watermelon, you can reduce your risk of developing preeclampsia during pregnancy. Preeclampsia is a condition that can have serious affects on you and your baby. Getting plenty of lycopene while pregnant can also reduce your risk of having a baby who suffers from intrauterine growth retardation.
Recipe Ideas
Puree a cup of fresh watermelon with the seeds removed, and strain the pulp to make fresh watermelon juice, which you can sip to hydrate yourself or treat morning sickness. Or freeze the puree in ice-pop molds for a healthy frozen treat to help you cool off. If you prefer savory foods and watermelon is just too sweet for you, try tossing cubed watermelon with cubed tomatoes to give your body an extra dose of lycopene and cut back on the sweetness.