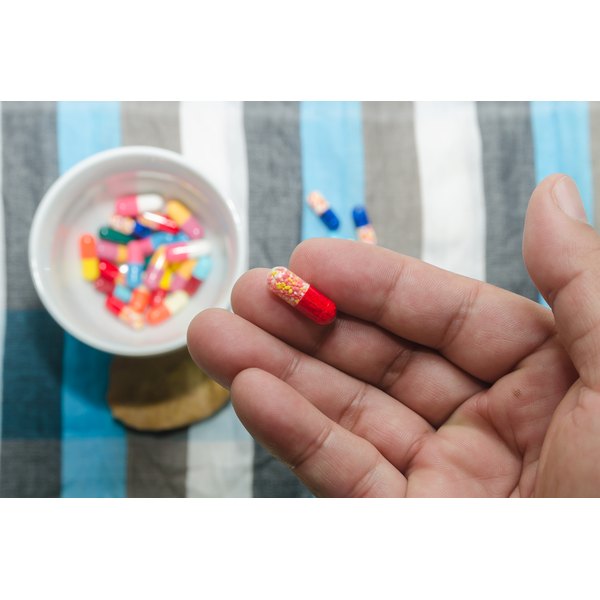 Vitamins contain numerous inactive ingredients used as binders or fillers or for other purposes. Xanthan gum and cellulose are among the ingredients you'll commonly see on vitamin labels. Whenever you have a question about a supplement ingredient, call the vitamin manufacturer – especially if you have a special consideration such as a food allergy.
Cellulose
Many forms of cellulose are on the U.S. Food and Drug Administration's Generally Recognized as Safe list, or GRAS. Cellulose is a building-block of plant walls. It is an insoluble type of dietary fiber. Your body does not digest or absorb cellulose. Cellulose gel often is used as a fat replacer in foods. Carboxymethyl cellulose and sodium carboxymethyl cellulose are both on the GRAS list. Ethyl cellulose and cellulose acetate are listed as GRAS substances that may migrate to food from paper or products that are used in food packaging.
Ethyl Cellulose
Ethyl cellulose is the form of cellulose most often used in vitamins. It's frequently a component of the protective coatings for vitamins. It's also used as a binder and filler for vitamin and mineral supplements. It is not on the GRAS list for this purpose, notes the "Handbook of Food Preservation," by Shafiur Rahman. However, ethyl cellulose is approved by the FDA as a direct food additive permitted for human consumption. Manufacturers have to meet certain specifications set by the FDA to include it in their products, according to the "Encyclopedia of Food and Color Additives," by George A. Burdock. Wood pulp and cotton liners are the main sources of this type of cellulose for food-related purposes.
Xanthan Gum
Xanthan gum is made from vegetable cellulose. It's used as a stabilizer, a thickener and a binder, meaning that it helps hold ingredients together. Xanthan gum is considered a direct food additive by the FDA. You'll find it in many foods other than vitamins, where it is often used as a fat replacer. These include baked goods, dressings and frozen desserts. While it is not on the GRAS list, xanthan gum is considered a safe food additive, according to "Eat Safe: The Truth About Additives from Aspartame to Xanthan Gum" by Bill Statham. In animal studies, it has been proven nontoxic, though there is no toxicity or safety data on humans as of 2010, reports "Leung's Encyclopedia of Common Natural Ingredients" by Ikhlas A. Khan and Ehab A. Abourashed.
Considerations
If you want to avoid genetically engineered foods, call the vitamin manufacturer to determine how the xanthan gum in your vitamins was derived. It may be a product of genetic engineering, or GE, Statham notes. Hydroxypropyl cellulose and hydroxypropyl methylcellulose are synthetic versions of cellulose that may be GE. If you must follow a gluten-free diet, both xanthan gum and cellulose are safe for you to consume. Microcrystalline cellulose is not on the GRAS list, but no available information suggests it has properties that differ from forms of cellulose that are on the GRAS list, according to the FDA. Methyl cellulose is not on the GRAS list, either, and has been shown to cause problems during pregnancy in animals at extremely high levels. Toxicity does not occur when intakes are 26 times greater than the estimated average human intake of this substance, however, notes the FDA. Hydroxypropyl methylcellulose is a derivative of methyl cellulose and as such also is not on the GRAS list.