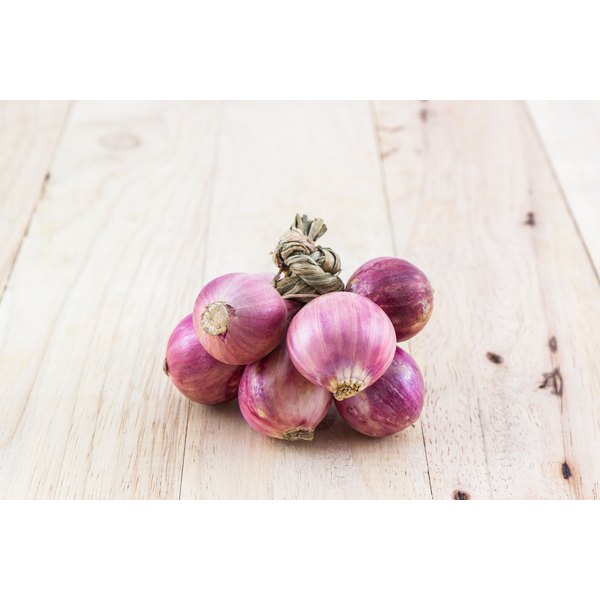 Juicing fruits and vegetables provides you with a variety of health benefits, but red onions are not the first vegetable many people think of when it comes to juicing. You might think this type of juice would make your breath smell, but the savory-sweet juice has many medicinal effects. Do not drink red onion juice as a treatment for any medical condition without first consulting your physician.
Stomach Muscles
Including red onion juice in your diet might help with stomach problems. A study published in the November 2009 issue of the journal "Toxicology" indicates that onion juice relaxed stomach muscles, based on lab tests. More animal and human studies are needed to confirm these findings, but applications for this juice include treatment for stomach cramps caused by spoiled food or stress, as well as other conditions.
Cataracts
By the time you reach your 80th birthday, it is likely you will have had cataracts -- 50 percent of all Americans develop this filmy layer over the eye by the time they reach that milestone birthday, according to the American Academy of Ophthalmology. Drinking the juice of red onions might help prevent this condition. Research featured in the May-June 2009 issue of the "Indian Journal of Ophthalmology" suggests that onion juice prevents the formation of certain types of cataracts in animal models. Human studies should confirm whether this finding holds true beyond lab animals.
Cancer
Juicing red onions might influence your risk for some types of cancer. Evidence available in the July 2011 issue of "Gastroenterology" suggests that consuming a diet high in onions might reduce your chances of developing gastric cancer, also known as stomach cancer, which kills more than 10,000 people in the U.S. each year, according to the National Cancer Institute. The Juice Nut website indicates that red onion juice might also prevent breast, colon and esophageal cancers.
Allergies
Drinking red onion juice might help decrease allergy attacks due to the quercetin in this beverage. Research in the July-December 2006 edition of the "Journal of Biological Regulators and Homeostatic Agents" indicates that quercetin, a flavonol, inhibits histamine and other cell secretions that contribute to allergic reactions. As this study was done in a lab setting, more animal and human research needs to be carried out.