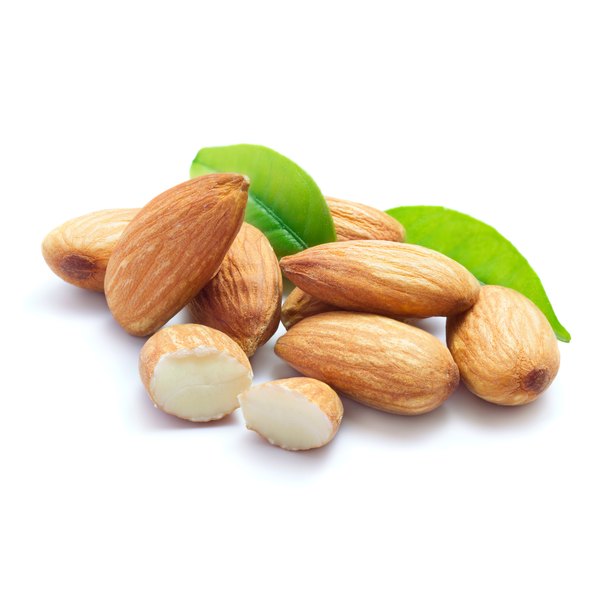 Filled with protein, fiber and healthy fats, almonds add lots of nutritional value to a low-carb diet. And almond flour, made from ground almonds, offers a way to enjoy bread without all the carbs found in wheat-based breads. Use ground almonds, a mix of alternative flours and flavorful add-ins for a decadent bread that pairs perfectly with healthy low-carb toppings.
Use Almond Flour for Your Bread
Lots of the carbs in regular almond bread are there thanks to the flour, which supplies about 92 grams of carbs per cup. Simply subbing out wheat flour for almond flour -- sometimes labeled as ground almonds -- dramatically lowers the carb content of your bread and amps up the almond flavor. Each cup of almond flour has just 8 grams of digestible carbohydrates -- called "net carbs." Making this switch will also give your bread a richer, denser texture, so your almond bread will feel like a heartier snack.
Use Other Low-Carb Flour Alternatives, Too
While almond flour adds lots of texture and richness to your bread, you'll get the best results mixing it with other low-carb flours. Coconut flour -- which is made from defatted ground coconut meat -- absorbs and holds onto moisture, and it will make your bread less fragile than if you used almond flour alone. Adding flaxseed to your bread retains moisture -- the fiber found in flaxseed binds to water to hold moisture into each slice -- and ensures your bread supplies essential omega-3 fatty acids, too.
Both flaxseed and coconut flour absorb moisture, so you'll need to adapt your recipe to avoid making almond bread that's too dry. Experiment with different mixes of flours -- and the amount of water, milk or almond milk you include for added moisture -- to get a bread that suits your taste.
Amp Up the Flavor
While almond flour plays the starring role in low-carb almond bread and offers lots of flavor on its own, you can use other add-ons and mix-ins to get even more flavor. Start by mixing cinnamon and vanilla extract into the batter. These seasonings add just a hint of sweetness without the sugar -- or the huge dose of carbs. Add in a few drops of almond extract, and add orange or cherry extracts for a fruity twist on traditional almond bread. Finish up by mixing in chopped whole almonds before the bread goes in the oven, or add a few tablespoons of cacao nibs for "chocolate-covered almond" flavor.
Healthy Low-Carb Toppings
Even a low-carb almond bread won't be low-carb fare if you top it with a sugary spread, like sugar-sweetened jelly or a sweet chocolate hazelnut spread. If you usually serve your bread with jam, make a raw, low-carb jelly instead by mashing a 1/2 cup of raspberries -- for just 5 grams of net carbs -- and stirring in a teaspoon of ground flaxseed. Let the jelly thicken for a few minutes, stirring every minute or two, then spread over your slice. Or make your own low-carb coconut butter by blending unsweetened shredded coconut in a food processor for 10 to 15 minutes, until it takes on a peanut butter-type texture.