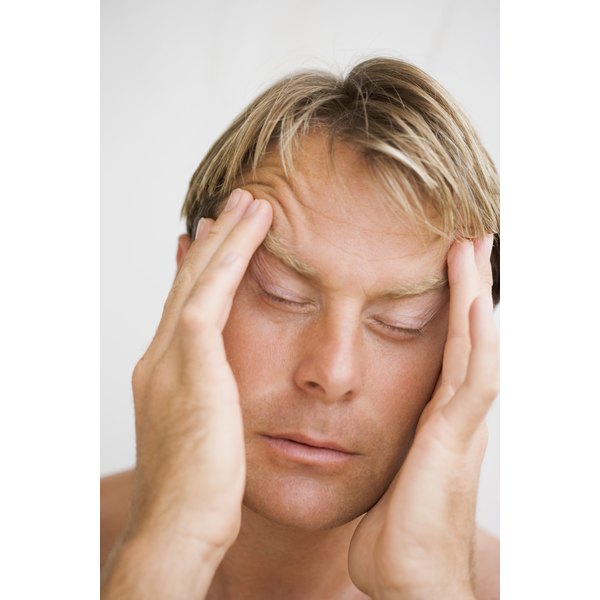 Some diet pills can give you a headache. Both prescription and herbal diet pills cause this side effect. Fad dieting behaviors such as skipping meals or eliminating food groups can cause headaches, too. A headache is a common complaint and generally does not indicate a more serious health condition. However, headaches can also be a sign of a serious health condition requiring medical attention.
Headache
Tension and migraine headaches cause various levels of pain and discomfort. People in their teens and early 20s have more frequent headaches than the general population. In fact, about 50 to 75 percent of all teens say they suffer from at least one headache per month according to information from Brown University. It lists various causes of headaches including diet pills, sleep problems, prescription medication and (Ref 6)
Prescription Diet Pills
Some prescription diet pills may cause headaches. The appetite suppressant diethylpropion can cause side effects including headache, dizziness and sleeplessness. The fat blocker orlistat causes side effects including headache, oily stool and pain in the rectum. The seizure treatment medication zonisamide, sometimes prescribed off label for weight loss, can cause side effects including headache, nausea and dizziness. Contact your doctor if your prescription diet pills give you headaches or cause side effects.
Dietary Supplements
Some common dietary supplements for weight loss can cause headaches as a side effect, according to a scientific review from the Jefferson School of Pharmacy and reported in a 2011 issue of the "Journal of Obesity." One of the most commonly reported adverse events in studies examining hydroxycitric acid or Irvingia Gabonensis – African mango – is a headache. Diet pills with guarana, which naturally contains caffeine, can also cause headaches as a side effect, according to information from the Colorado State University Extension.
Tension Headache Medicine
Over-the-counter tension headache medicine can have negative interactions with diet pills. Tension headache medication typically contains a pain reliever and caffeine, which differentiates it from regular pain relievers. The caffeine narrows your blood vessels, which is important for headache relief. Information from Drugs.com cautions against taking diet pills, and tension headache medicine containing acetaminophen as the pain reliever without your doctor's approval. Diet pills may also contain caffeine or pain relievers and you could inadvertently take more than you intended.