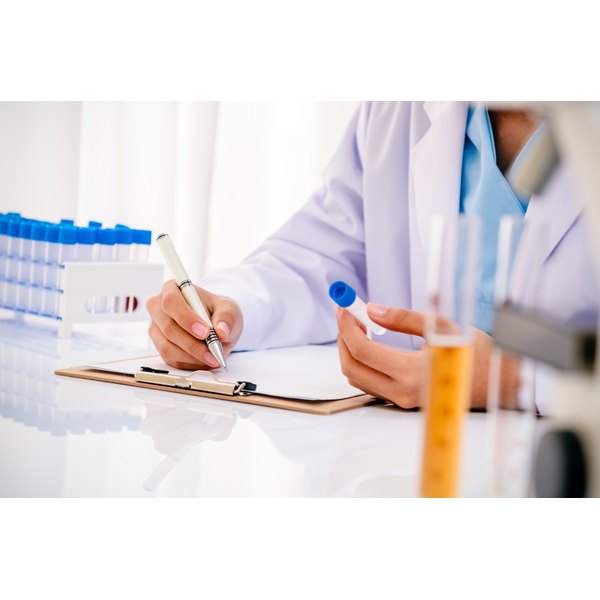 When a lab measures your leptin levels, several factors play into how your doctor will interpret the results. For example, your age, gender and weight all factor into what a normal leptin level range is for you. In addition, leptin has only been on the research scene since 1994. As scientific inquiry continues, the reference ranges for what's normal, high or low within these strata could change. Furthermore, though you may think having high leptin results is a good thing, for many, it's just the opposite.
Leptin
Leptin comes from a Greek word meaning thin. Known as the "satisfaction" hormone, it's mainly acts as a regulator of your body's total energy stores. That is, it is the key player when you feel you've had enough to eat because leptin has bound to receptors in the region of your brain responsible for appetite and hunger. However, leptin also senses changes in the amount of energy you have stored and can also increase the amount of calories your body burns to keep your weight set within a small range of pounds. Most of the leptin in your body comes from your fat cells, which release the hormone while you sleep. However, a small amount of leptin is released from stomach tissue and there are leptin receptors in your gut as well.
Leptin Results
Leptin is measured through a special blood test. Numerous research investigations undertaken since leptin's discovery in 1994 have provided a group of reference ranges for normal, high and low leptin results. The most important caveat is your level of body fat. Leptin mainly comes from fat cells and the more fat in the cells, the more leptin that is released. In addition, reference ranges for children highly depend on their level of sexual maturity, and levels are expressed by their "Tanner" stage, which ranges from prepubescence through the development of genitalia to adulthood.
Reference Ranges for Boys and Girls
Girls in Tanner stages 1 and 2 have had recorded leptin ranges from 0.22 to 145 mcg/L. This range covers prepubescent girls with a body mass index, or BMI, from 11 to 37, which corresponds to significantly underweight to obese. The middle 50 percent of girls in normal BMI ranges of 19 to 25 have leptin levels between 4.87 and 21.8 mcg/L. Boys in these stages have a total range of 0.08 to 144 mcg/L. The middle 50 percent goes from 2.5 to 12.7 mcg/L. For Tanner stages 3 and 4, girls' total range is 0.32 to 148 mcg/L, and the middle ranges between 14.79 and 19.7 mcg/L. Boys' total range is 0.06 to 134 mcg/L, and the middle ranges between 0.92 and 3.18 mcg/L.
Reference Ranges for Adults
At stage 5, young women's total leptin ranges from 0.50 to 137, with the middle ranges between 4.48 and 11 mcg/L. For young men, a total range of 0.03 to 50.3 has been recorded with the middle ranges between 0.51 and 1.22 mcg/L. Adult women ages 20 to 80 have leptin ranges falling between 0.46 and 149 mcg/L. The middle range for BMIs between 19 and 25 is 4.94 and 11.9 mcg/L. For men, the total ranges between 0.03 to 136 mcg/L, with the middle 50 percent between 0.85 and 3.18 mcg/L.
Time Sensitivity & Other Factors
Besides your level of body fat, your leptin results are highly sensitive to the time you take the test. Leptin somewhat follows a circadian pattern, with peak expression around 2 a.m. However, according to Mediagnost, one of the major manufacturers of leptin testing kits, a single measurement in the morning or early afternoon provides an "informative" reading. As can be gleaned from reference ranges, gender also plays a huge role in what's considered a high leptin result. Women's leptin levels are generally higher than men's levels, and for children age also plays a role.
Leptin Resistance
The fact that people who are obese have more leptin than people who are thin suggests that obesity causes a resistance to leptin. This means the hormone either can't reach the receptors in your brain to dial back your appetite and upgrade your calorie-burning, or there is a problem with how your brain responds to leptin. In addition, as you age, you'll have fewer leptin receptors, which can make you prone to gain weight.