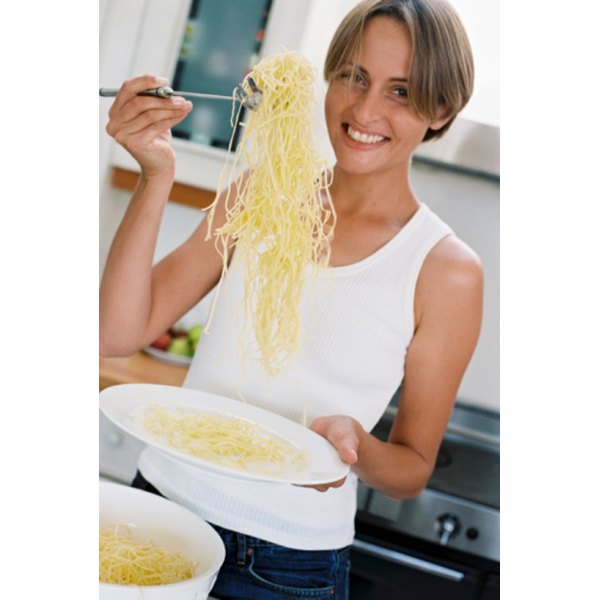 With the increased popularity of low-carbohydrate diets, pasta is increasingly looked upon as an unhealthy food. However, the most recent 2005 Dietary Guidelines for Americans recommend adults consume 45 to 65 percent of calories from carbohydrates. When eaten without the addition of unhealthy sauces and oils, pasta can be a healthy source of carbohydrates, fiber and protein. Pasta is deceptively high in calories though and easy to overeat, so it's important to consume pasta in moderation.
Tip
Angel Hair Pasta has 357 Calories and 12.50 g of Protein per 100 gram serving according to the nutrition facts provided by the USDA Food Composition Database.
Calories
The majority of calories in pasta come from carbohydrates. A moderate amount comes from protein, and a small amount comes from fat. One dry 2 oz. serving of pasta contains 200 calories. Olive oil and sauces containing oils will add large amounts of calories from fat because fat yields 9 calories per gram, more than twice the amount for carbohydrates and protein, which both yield 4 calories per gram.
Carbohydrates
High in carbohydrates, angel hair pasta contains 38 g per 2-oz. serving. Of that 38 g, there are 4 g of dietary fiber. Pasta is low in sugar, containing 1 g per serving. To increase fiber content, buy whole wheat pasta instead of traditional brands. Tomato sauce or vegetables will both add carbohydrates to the pasta, so adjust servings accordingly for nutritional requirements.
Protein
Angel hair pasta is an adequate source of protein, containing 10 g per 2 oz serving. Adding meat such as chicken breast can boost the amount of protein in the meal.
Fat
Served without sauce or oil, pasta is a low-fat food and contains only 1 g of fat per 2-oz. serving. Most sauces will add additional calories from fat, so adjust recipes according to your calorie requirements and goals.
Vitamins
Each 2 oz. serving of angel hair pasta is high in thiamin (35 percent of daily value), riboflavin (15 percent of daily value), niacin (15 percent of daily value) and folate (30 percent of daily value). These B vitamins play an important role in your metabolism.
Minerals
Not as high in minerals as vitamins, a 2 oz. serving of angel hair pasta contains moderate amounts of iron (10 percent of daily value) and small amounts of calcium (2 percent of daily value). Iron helps transport oxygen through the blood, while calcium helps maintain bone and teeth strength.