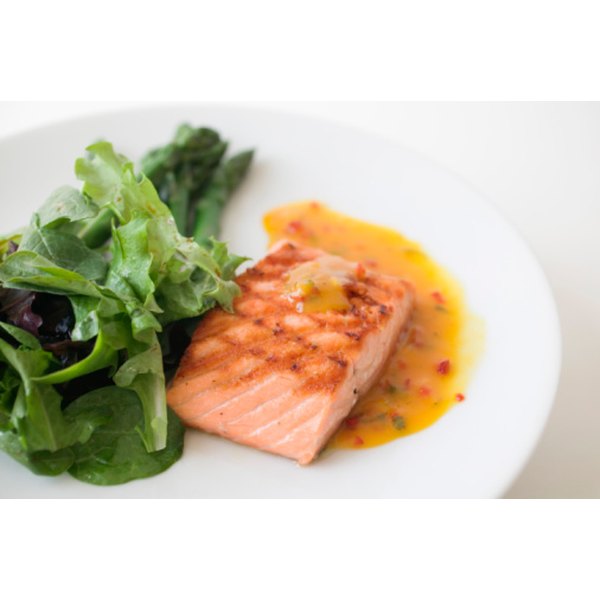 A healthy meal should not only provide you with all the basic nutrients your body needs to keep your health, but should also be free of chemicals, trans fats and sugar. The best way to design a super healthy meal is to combine any nonstarchy vegetables with a satiating source of protein and healthy fats. Depending on your physical activity level, complete your meal with healthy carbs as needed. Make a list of your favorite top 10 healthy meals and stick it on your fridge for the days you lack inspiration or motivation in the kitchen.
Steel-Cut Oats With Berries
For breakfast, steel-cut oats is a healthier option compared to most breakfast cereals and instant, flavored oatmeal. By requiring more time to digest, steel-cut oats will satisfy you for longer. Mix your oatmeal with any combination of plain yogurt, cottage cheese, peanut butter, unsweetened applesauce, almonds, flaxseeds, berries, apple or pear. Sprinkle with cinnamon for a bit of sweetness without added sugar. All of these toppings provide you with either a good dose of protein or fiber to make you feel fuller longer.
Omelet With Onions and Swiss Chard
Eggs make a great high-protein breakfast. Most Americans do not get enough protein for breakfast, yet this nutrient is essential to keep you feel satiated and help you reach and maintain a healthy weight, according to an article in the May 2008 issue of "American Journal of Clinical Nutrition." Cook your omelet in olive oil to add healthy monounsaturated fats to your diet. Serve with cheese if desired.
Salmon and Broccoli
Cold-water fatty fish, like salmon, provides one of the best source of omega-3 fatty acids, which are protective against heart disease and can also lower inflammation in your body. For a super healthy meal, bake salmon and serve it with an antioxidant-rich vegetable like broccoli that could help prevent cancer. Use olive oil to cook your broccoli or simply drizzle it over steamed broccoli for a boost of healthy fats.
Chicken and Vegetable Stir-Fry
A stir-fry is quick, easy and delicious. Avoid serving your stir-fry with large amounts of noodles or rice and focus on nonstarchy vegetables along with a good source of protein for the foundation of your healthy meal. Stir-fry bean sprouts, bok choy and red bell pepper with chicken strips. The protein from chicken and the fiber from the nonstarchy vegetables will help you feel satiated until the next meal and will prevent you from craving unhealthy snack foods. Season with freshly grated ginger, soy sauce, sesame oil and sesame seeds, if desired.
Homemade Pizza
Frozen pizzas and pizzas prepared at restaurants contain a lot of unwanted ingredients. If you prepare your own pizza, you can make a healthy meal out of it. Use a tortilla, eggplant slices or portobello mushroom caps as the base for your pizza. Add pesto or sugar-free tomato sauce and plenty of nonstarchy vegetables like onions, mushrooms, bell pepper, asparagus and artichokes. Avoid processed meats and opt instead for chicken, fish or seafood and sprinkle with cheese. Making homemade pizza will help keep your calorie intake low while supplying fiber and antioxidants from nonstarchy vegetables and satiating, natural protein without additives and chemicals.
Salad with Sirloin Steak and Avocado
Skip the iceberg and opt for dark, leafy greens to prepare a nutritious salad. Add slices of sirloin steak and slices of avocado. Avocado is rich in heart-healthy monounsaturated fats. Drizzle with a vinaigrette made with extra-virgin olive oil and balsamic vinegar. Complete your meal with berries topped with plain yogurt for extra antioxidants.
Stuffed Chicken Breasts With Asparagus
For a fancier meal that will be sure to impress but will still deliver all the nutrition you need, try stuffing chicken breasts. Slice a chicken breast to make a little pocket and stuff it with spinach, sun-dried tomatoes and Brie or goat cheese. Bake and serve with asparagus drizzled with olive oil. This meal is very satisfying because of the protein from the chicken, the fiber from the spinach and asparagus and healthy fats from olive oil.
Spaghetti Squash
Spaghetti is one of America's favorite comfort foods. However, most people consume way too much pasta, which can raise your blood sugar levels sky high and cause weight problems. Try using spaghetti squash instead. Serve with a homemade, sugar-free and chemical-free spaghetti sauce. Sprinkle with Parmesan cheese and accompany with a big bowl of leafy greens.
Fish and Oven-Baked Sweet Potato Fries
For a healthy fish-and-chips meal, skip the batter and the frying. Not only is making healthy fish and chips easier and quicker than the original version, it is also delicious. Choose a white fish, such as tilapia, sole or snapper. Serve it with sweet potato fries that you drizzled with olive oil, seasoned with salt and thyme and baked for about 45 minutes at 375 degrees Fahrenheit. Add a salad of leafy greens to complete the meal. Making your own fish and chips will help you reduce your calorie intake by cutting out the refined flour in the batter and the extra fat used for frying. Sweet potatoes also contain more beta-carotene compared to regular potatoes, and completing your meal with a salad will help you boost your fiber and antioxidant intake.
Lettuce Fajitas With Guacamole
You can make your favorite Mexican meal healthy with a little twist. Avoid taco shells, which often contain trans fat, and skip the bottled sauces and seasonings that are full of additives and salt. Make your own salsa with fresh tomatoes and chili powder and your own heart-healthy guacamole simply by mashing an avocado and sprinkling with lime juice and salt. Use lettuce leaves to wrap your fish, shrimp, pork, chicken or beef; add salsa and guacamole; and sprinkle with cheese.