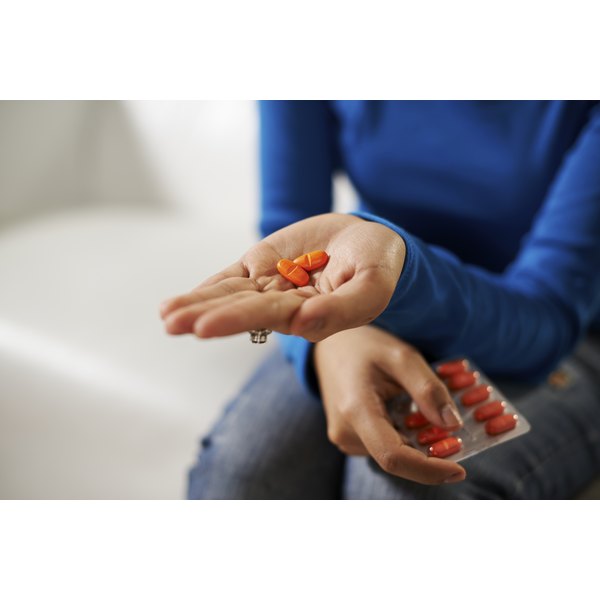 If you want to try the weight loss supplement made by Saba called A.C.E. be aware that it can have side effects, including interacting with your medication. Saba manufacturers say their product reduces cravings and hunger while boosting your energy, leading to weight loss. In fact, A.C.E. stands for appetite control and energy. This product contains numerous ingredients, all of which have possible adverse effects. Check with your doctor before trying it.
Caffeine
Saba has caffeine-containing ingredients including cocoa powder, green tea extract and other "natural sourced caffeine." Caffeine can cause gastric irritation, vomiting, increased urination, insomnia, restlessness and nervousness, as well as migraine headaches. It can have an unpredictable effect on your blood-sugar levels if you take insulin. You should be cautious of consuming caffeine-containing supplements if you also take hormone drugs -- such as estrogen or progesterone -- or stimulants like ephedra, because the caffeine can increase the risk of side effects from these medications. Caffeine also interacts with a number of other pharmaceuticals, and these interactions can cause serious side effects, including an abnormal heart rate.
Geranium, Chromium and Vanadium
Saba contains geranium, chromium and the trace mineral vanadium. Geranium can cause allergic reactions so avoid it if you are sensitive to the Pelargonium species. Also avoid it if you have liver or kidney disease. Less serious adverse reactions may include diarrhea, heartburn, nausea and gastric pain. Vanadium can cause gas, stomach pain, nausea, diarrhea and vomiting. High doses can lead to liver or kidney damage. Using this mineral also may lead to high cholesterol, low white blood cell counts or anemia. Do not take it if you have kidney disease or a health condition that causes a low white blood cell count. Vanadium also raises your risk for hypoglycemia, or blood-sugar that falls too low, when taken along with diabetes medicines. It increases your risk for bruising or bleeding when taken with blood-thinning medicines like warfarin.
Vitamins
Saba has 8 mg vitamin B6, which is 400 percent of the recommended daily amount. Taking excess vitamin B6 can result in nerve damage in your arms and legs. This neuropathy is usually reversible when supplementation is stopped, according to the U.S. Office of Dietary Supplements. The upper tolerable intake level for this vitamin B is 100 mg daily.
Spirulina
Spirulina, a blue-green algae, is another ingredient in Saba. Avoid it if you have an autoimmune disease because it may cause your immune system to become more active. Also avoid it if you take medicines that decrease the immune system like cyclosporine. Spirulina contains the chemical phenylalanine, which can worsen phenylketonuria. Some sources of spirulina can be contaminated with harmful bacteria, toxic metals or microcystins. Contaminated blue-green algae can cause serious adverse effects including liver damage, stomach pain, shock, rapid heartbeat as well as weakness, thirst and nausea, according to MedlinePlus. Avoid spirulina products that are not certified free of contamination.