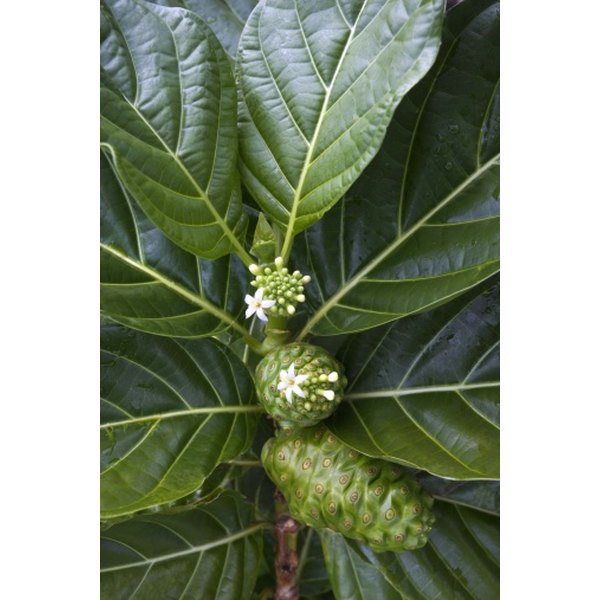 The noni tree, morinda citrifolia, is native to Asia and Australia. Its fruit and leaves are both used medicinally. Polynesian cultures traditionally made extensive use of this tree to treat conditions such as diabetes and urinary tract infections. The leaves are sold in a powdered capsule form as a nutritional supplement. Talk to your doctor before using noni to prevent, treat or cure any condition.
Cancer Patients
Noni capsules may help you if you are suffering from cancer. In a study published in December 2009 in the "Journal of Dietary Supplements", patients with cancer who took noni leaf capsules reported having reduced pain and fatigue. The effective dose was found to be in the range of 6 to 8 grams daily. However, some of the study participants withdrew prematurely because of their inability to swallow 3 to 4 pills to achieve that dose.
Wound Healing
Taking noni leaf pills may help heal your wounds faster, according to preliminary evidence stemming from animal studies. Noni decreased wound healing time in rats in a study published in 2009 in" eCAM." In this study, the researchers fed the rats an extract taken from the leaves of the noni tree, 150mg for roughly every 2.2 lbs of body weight.
Cervical Cancer
Noni leaf pills may protect women from cervical cancer. In vivo, noni was found to kill cervical cancer cells in a study published in 2010 in the "Southeast Asian Journal of Tropical Medicine and Public Health." According to the researchers, noni leaf has antioxidant properties meaning that it helps protect healthy cells.
Safety
Noni leaf capsules are generally safe and suitable as a supplement, according to a study published in 2008 in the "European Food Safety Authority." However, the authors suggest more testing is warranted to determine if liver toxicity can occur with noni capsules. The potential for liver toxicity is a concern with many herbal products. Talk to your doctor before taking noni capsules.